Discover the Beauty of Utah's Red Rock Region with Amangiri and Camp Sarika's 2023 Itineraries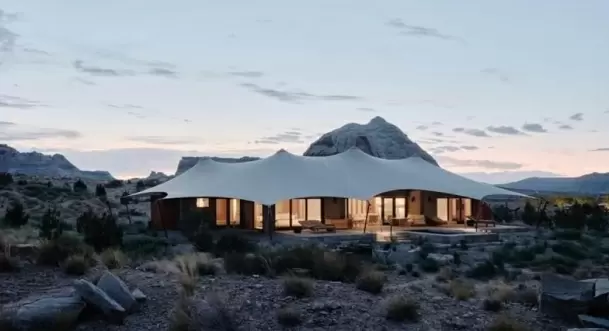 Around 900 acres of untamed wilderness, Amangiri and Camp Sarika, located in Utah, offer front-row access to a world of adventure, discovery, and restful time out in America's beautiful red-rock region. They are surrounded by amazing rock formations and marbled canyons on the majestic Colorado Plateau.

The resort has selected new itineraries for 2023, each painstakingly crafted with a certain need-state in mind, allowing visitors to make the most of their time and guaranteeing an in-depth discovery of the exceptional place. The area is home to five national parks and other national monuments on the outskirts.

Amangiri, US


Amangiri has designed a brand-new four-night itinerary that allows guests to thoroughly explore the resort's vast amenities and its alluring surroundings. The activity offers a unique and in-depth exploration of the numerous natural treasures on the property and in the surrounding area.
A visit like no other with loved ones is made possible by the variety of land and sea activities, in-depth knowledge of Amangiri, abundant time in the Aman Spa, and the opportunity to indulge in wonderful cuisine in the restaurant. Visitors may make the most of their time at the resort and ensure that no area of the magnificent location is left unexplored because the Amangiri team has planned every excursion before their arrival.
Prices start from USD $5,500 per night, based on double occupancy and excluding taxes and fees, including airport transfers, full-board (excl. alcohol), a guided Can-Am adventure, a half-day boating or Sea-doo experience on Lake Powell, a 90-minute movement session (personal training, Pilates, or yoga) and a private dinner with a beverage credit of USD $150.
Family Adventure
Until October 31, 2023
The privacy is offered by Camp Sarika's exceptional setting in the middle of acres of towering mesas, slot canyons, and rust-coloured sands. The property's two-bedroom Pavilions, each with a separate living space, private balcony, individual firepit, heated plunge pool, and outdoor shower, make it a great choice for families. A restaurant, a lounge, and a luxurious pool are all located in a Main Pavilion.
Camp Sarika is providing families with the opportunity to reunite and make lifelong memories at specific times this year with an all-inclusive four-night stay filled with activities designed for both kids and adults.
Camp Sarika has its own path network for desert and mountain hiking for people who want to explore the huge expanse of stunning nature just outside their door. There are several outdoor activities waiting for you, including horseback riding through Utah's maze of red-rock canyons and calm Lake Powell.
There are also activities for people of all ages. S'mores and story-telling around the fire, together with telescopes accessible for evening astronomy sessions, are the perfect way to round off long days spent exploring the wilderness.
Prices start from USD $7,547 per night, based on double occupancy and excluding taxes and fees, including airport transfers, full-board (excl. alcohol), a full day National Park tour (with an optional upgrade to travel via helicopter), a private Native American hoop dancing experience, a half-day water adventure, an off-property horseback ride, two Camp Sarika backpacks and in-room amenities for children.
Time Together
Until December, 2023
Camp Sarika provides the luxury and convenience of a private retreat with 10 one- and two-bedroom Pavilions, as well as a Main Pavilion featuring a restaurant, cafe, swimming pool with daybeds, and two spa rooms. The home is perfectly positioned to serve as a meeting place for friends or family, and the lovely setting makes it simple to explore the surrounding area with adventurous activities suitable for all ages.
Camp Sarika caters to groups travelling together with a novel four-night stay that incorporates unique experiences, giving the impression of a resort within a resort. The customised programme provides the opportunity to rekindle relationships and make priceless memories with loved ones through adventure activities that provide an exhilarating exploration of the extensive environment around the property and exclusive craft classes.
Prices start from USD $7,200 per night, based on double occupancy and excluding taxes and fees, including airport transfers, full-board (excl. alcohol), a guided three-hour off-property tour, a private workshop experience (dreamcatcher making, pottery), a half-day water adventure on Lake Powell, a 60-minute yoga session and a private dinner with a guided stargazing experience.
Restore & Rebalance
Until December 21, 2023
Amangiri's serene setting amidst the soul-soothing silence and majesty of the desert provides an incomparable location for a revitalising retreat. The resort offers a two-night wellness experience enabling guests to reap the benefits of the extensive Aman Spa and restorative backdrop.Discover a renewed sense of self, achieving a state of profound contentment and security.
The rejuvenating stay begins with a wellness consultation which is tailored according to each individual's goals and needs. The itinerary is centred around the comprehensive 25,000sq-ft (2,322sq-m) Aman Spa, a destination in its own right.
The vast well-being sanctuary includes five treatment rooms, two outdoor treatment terraces, and an expansive Water Pavilion with a steam room, sauna, cold plunge pool and heated step pool. An extensive menu provides unique treatments inspired by the elements of earth, wind, fire and water. In between time spent relaxing at the spa, savour exquisite cuisine in the restaurant, with menus incorporating seasonal fare, inspired by local traditions as well as drawing upon Utah's Southwestern culinary heritage. Further healing is found al fresco via Amangiri's numerous outdoor adventures, where guests enjoy exercise, spectacular scenery and an abundance of fresh air.
Prices start from USD $4,250 per night, based on double occupancy and excluding taxes and fees, including full-board (excl. alcohol), a 15-minute wellness consultation, a 30-minute Crystal Sound Bath, a 60-minute massage per guest, an adventure activity (a Via Ferrata experience, a horseback ride or the Three Canyon Tour) and a private dinner served in-suite (excl. alcohol). - IANSLife