Actor Samantha Ruth Prabhu Invests in Indian Superfood Startup Nourish You, Company Launches Millet Mlk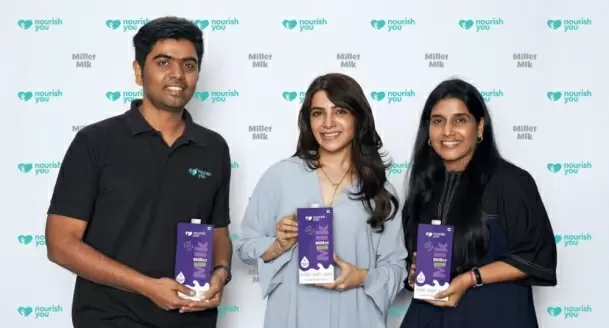 Indian superfood startup Nourish You has announced an investment from acclaimed actor Samantha Ruth Prabhu. The company, known for retailing homegrown quinoa and chia seeds, secured the investment as part of its seed funding round.

Other notable investors who have invested in Nourish You include Y Janardhana Rao of Triumph Group, Rohit Chennamaneni, Co-founder of Darwinbox, Nikhil Kamath, Co-founder of Zerodha, Abhijeet Pai, Co-Founder of Gruhas Proptech, and Abhinay Bollineni, CEO, KIMS Hospitals among others.

Samantha Ruth Prabhu shared her enthusiasm for the investment, stating, "Investing in Nourish You was a natural progression since I have been consuming their products for a while.
"I was impressed by their story of bringing superfoods like Quinoa and Chia to India, growing them locally, and their product roadmap of millet based clean-label vegan superfoods.
"I believe that Nourish You can create value while making a positive impact on the health of consumers as well as the planet. I'm excited to partake in their innovative and sustainable approach to business."


In conjunction with her investment, Prabhu also launched Nourish You's first plant-based, vegan, and lactose-free milk alternative, Millet Mlk. The product is a result of two years of research on millet-based products and aligns with the United Nations' declaration of 2023 as the International Year of Millets.
Nourish You's Co-founder, Krishna Reddy, welcomed Samantha to the team, saying, "We believe this partnership with Samantha will help us strengthen our position in the market as we unfold India's superfood growth story."

On introducing Nourish You's Millet Mlk, Sowmya Reddy, Co-founder, Nourish You further added "I have been lactose intolerant since birth, and always saw my mother struggle to find non-dairy alternatives that were nutritious, delicious, and of good quality.
"This inspired me to join the development of Millet Mlk at Nourish You. The difficulties and challenges in finding dairy-free alternatives are significant even today and Nourish You's Millet Mlk fills these gaps."

Millet Mlk is a nutritious, sustainable dairy milk alternative that is gluten-free and made with ragi, jowar, bajra, and oats. It comes in two flavors, Original and Chocolate, and can be used in teas, coffees, and smoothies.

Nourish You's products, including the newly launched Millet Mlk, are available on their website, and leading e-commerce platforms such as Amazon, Flipkart, and Big Basket, among others. - TWL Bureau