Afghan poppy trade zooms despite stranded fruit exports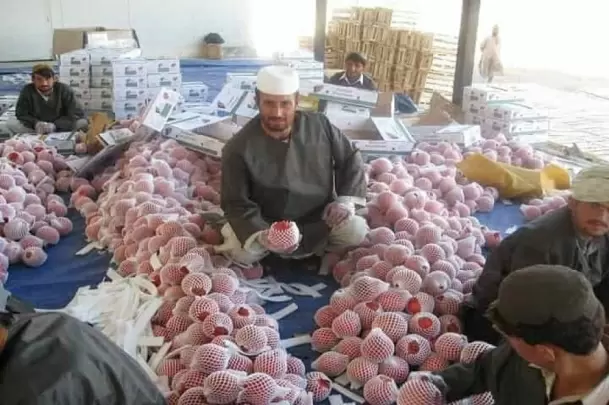 It is harvesting time in Afghanistan these days. But the landlocked state gripped by violence needs an outlet to market its produce.

Nevertheless there is something to cheer about. Farmers have got a bumper crop of fruits. But there is plenty of bad news as well. Hundreds of tons of fresh fruits remain stranded at key crossing points with Pakistan for eventual exports, and have begun to rot.

Only in southern Kandahar province, marred by the Taliban-led insurgency, hundreds trucks loaded with vegetables and fruits ready for export to Pakistan and then onward to the other markets remain stranded for weeks at the crossing point.


The situation is exactly the same at a number of other crossing points as per the traders and farmers' unions. In 2019, they produced 273,060 tons of grapes, and in 2020, they harvested 290,000 tons of grapes in more than 20,500 hectares of grape orchards in 17 districts of Kandahar province alone.
Afghan farmers are expecting a decent amount of money this year as a large percentage of these fruits will be exported to India because the activation of the air cargo route to India has resulted in an increase in farm incomes. But there is apprehension that the increased fight between the Afghan army and the Taliban may come in the way.
In early 2017, India and Afghanistan opened the first air freight corridors connecting Kabul to New Delhi to promote bilateral trade, bypassing their common adversary Pakistan which was extended to Kandhar later.
In 2019, a second corridor between Herat and Delhi started. In 2019 itself , Afghanistan started a new export route through Iran's Chabahar port that marked the first end-to-end use of the trade route for Afghan exports.
The Zaranj-Chabahar route allows Afghan goods to reach India without crossing the Pakistani territory. According to the farmers, in the prevailing volatile situations, land routes are not safe.
Pomegranates and grapes have long been the pride of Afghan agriculture. But exports from the landlocked country have suffered due to disrupted air cargo service because of violence and frequent border closures by the neighbour - Pakistan. Pakistan has been fencing along the 2,600-kilometre Durand Line frontier to "filter" the flow of militants.
While these fruit growing farmers who have switched from "lucrative" poppy cultivation to "legal" fruit harvesting, poppy business is flourishing in Taliban controlled areas and Pakistan's check posts are always open for poppy crops.
According to Afghan government's rough estimate, poppy cultivation and drug smuggling has increased by 45 percent in Afghanistan this year compared to the same period last year.
The deputy minister of counter-narcotics Wahidullah Kalimzai told Tolo News that authorities have burned 67 metric tons of drugs in Kabul.
Interestingly, the findings of a new survey the UN Office on Drugs and Crime (UNODC) conducted in coordination with the Afghan National Statistics and Information Authority (NSIA) says, "The total area under opium poppy cultivation in Afghanistan was estimated at 224,000 hectares in 2020, which represents an increase of 37%, or 61,000 hectares, when compared to 2019."
In 2017, opium production in Afghanistan increased 87% to a record 9,000 metric tons, according to the UNODC. Afghan opium production accounts for more than 80% of the global morphine and heroin seized.
Afghanistan is the world's largest producer of opium and most of the poppy growing takes place in areas controlled by the Taliban and is believed to be an important source of income. Estimates of the Taliban's annual share of the illicit drug economy range from $300m-$700m.-IANS