Five terrorists killed, operation still on: NSG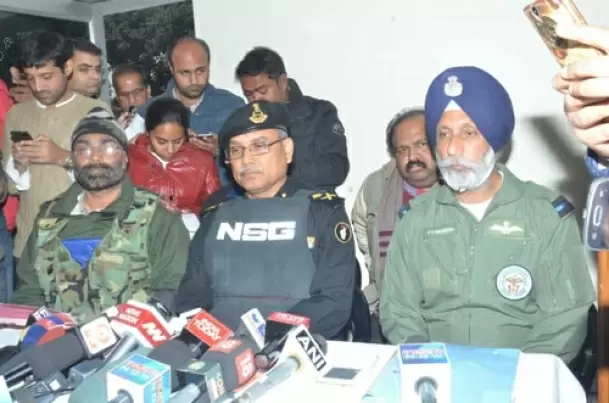 Security forces have killed five terrorists in the ongoing operations at the Pathankot Air Force Station (AFS), a senior official said on Monday.
"The operations are still going on. We have been able to eliminate the fifth terrorist. Combing and search operations continue," Major General Dushant Singh of the National Security Guard (NSG) told media here.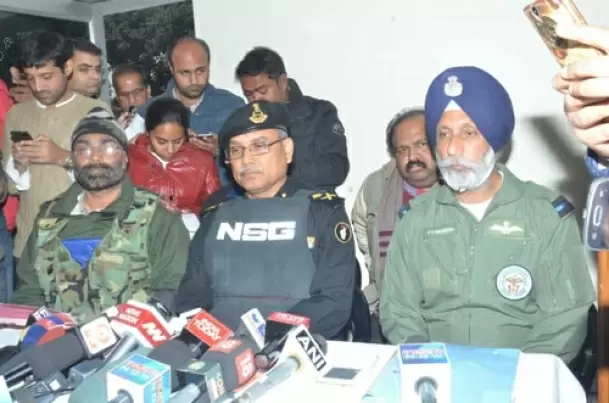 Inspector General, NSG, Major General Dushyant Singh and Air Officer Commodore (AOC) JS Dhamoon briefing the media on the ongoing operations against militants at Indian Air Force base in Pathankot (Photo: IANS)

"The security forces comprising NSG, along with the army which has major combat elements, air force has deployed all its assets. Police and intelligence agencies are also working in sync to make this operation successful," Masj. Gen. Singh said.
"All the assets of the air base, including personnel, families have been secured and are safe," he said, adding that given the magnitude, the operation "will continue to be conducted till we are able to fully render safe the base".
Terrorists, suspected to be from Pakistan, infiltrated into the air base in Pathankot early on Saturday which led to a fierce gunfight with security forces. Four terrorists were killed on Saturday.
Seven security personnel, including an officer of the NSG one IAF Garud commando, and five Defence Services Corps (DSC) personnel, were killed in the counter-offensive against the terrorists. - IANS