Sonia, Rahul appear in Delhi court, granted bail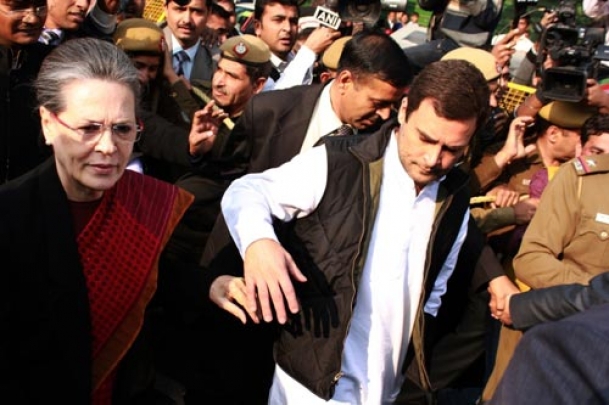 Congress president Sonia Gandhi and vice president Rahul Gandhi on Saturday appeared before a trial court in the National Herald case and were granted unconditional bail as they are "reputed persons".
The Gandhis appeared before Metropolitan Magistrate Loveleen, who also granted bail to Congress treasurer Motilal Vora, Gandhis' family friend Suman Dubey and another party leader Oscar Fernandes after they appeared before it.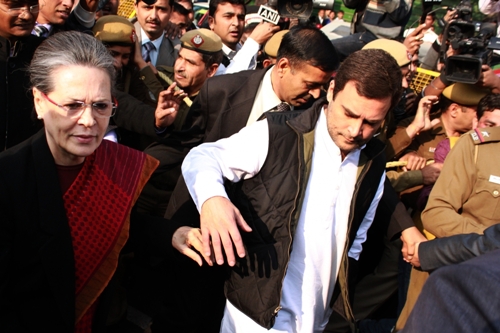 Sonia Gandh accused the Narendra Modi government of misusing central agencies to target opponents. In photo, she is seen along with Rahul Gandhi at Patiala House Court in New Delhi (Photo: IANS)

All were asked to furnish a personal bond of Rs.50,000 and a surety of like amount respectively.
Congress leader A.K. Antony gave surety for Sonia Gandhi while Priyanka Gandhi gave surety for her brother Rahul.
Another accused Sam Pitroda, a former chairman of the National Innovation Council, did not appear before the court due to health issues. The court granted him exemption from personal appearance but directed him to appear before it on February 20, the next date of hearing.
Bharatiya Janata Party leader Subramanian Swamy, who had initiated the case, opposed the bail pleas of the Gandhis and others saying there is apprehension that they can flee from justice.
Congress leader and senior counsel Kapil Sibal, who appeared on behalf of the Congress leaders, told reporters that the court rejected Swamy's plea to impose restrictions on their travel abroad.
"We moved an application before the court on behalf of all the accused for grant of bail. The court was kind enough to grant bail without conditions except for furnishing security in the sum of Rs.50,000 on behalf of each of the accused which were furnished," Sibal told reporters after the hearing.
"Swamy urged the court that some condition should be imposed on the travel of the accused out of India. The court declined that request and without condition allowed us bail," he added.
Wearing a maroon-coloured saree, Sonia Gandhi entered the Patiala House courts premises amid tight security. Rahul Gandhi, who was with her, waved to the crowd gathered to have a glimpse of them.
Former prime minister Manmohan Singh, Priyanka Gandhi, former Delhi chief minister Sheila Dikshit, Ghulam Nabi Azad, Mallikarjun Kharge, Rajiv Shukla, Ajay Maken, Kumari Selja, and Antony were present in the court room to express solidarity.
After her appearance, Sonia Gandhi, at a press conference at the party headquarters, accused the Narendra Modi government of misusing central agencies to target opponents and said her party is not afraid and will continue its fight.
"The central government is misusing government agencies to target the opponents. We are not afraid. Our fight will continue. Our struggle for Congress policies and in the interest of the poor will continue," she said.
Rahul Gandhi also accused the Modi government of levelling false allegations at their opponents.
"I and Congress will not bend. We will continue to struggle for the poor," he said.
Manmohan Singh said: "We will fight and we will give determined fight because of certain values, certain ideas and certain ideals, and nobody can reject the Congress party from that part."
Congress leader Abhishek Manu Singhvi told reporters: "All this hype and hoopla was unnecessary by the press. In deference and great respect to the court, we all appeared through counsel and each of the accused appeared except accused number six Sam Pitroda who has a medical problem. He was granted exemption for his medical problem."
On June 26 last year, the trial court issued summons to the Congress leaders on Swamy's complaint about "cheating" in the acquisition of Associated Journals Ltd., which published the National Herald newspaper, by Young India Ltd., "a firm in which Sonia and Rahul Gandhi each own a 38 percent stake".
Vora, Dubey, Fernandes and Pitroda were also named as accused in the case.
The Delhi High Court last week dismissed the plea of the Gandhis to quash the summons issued to them by the trial court on Swamy's complaint. - IANS