Amid pandemic and farmers' protest, Rabi acreage rises by nearly 5%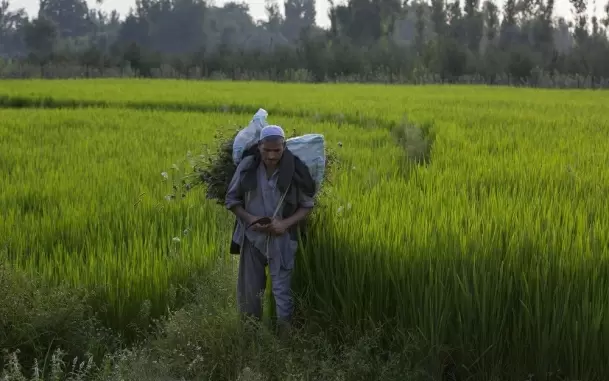 Amid the coronavirus pandemic and ongoing farmers' protests, the total acreage under Rabi crops in India has witnessed an increase of nearly 5 per cent this season compared with the figure from the corresponding period a year ago, official data showed on Friday.

As per Agriculture and Farmers Welfare Ministry data, this acreage had gone up by 25.41 lakh hectares, or 4.71 per cent, to 564.56 lakh hectares as against 539.15 lakh hectare in 2019 season.

The Ministry also pointed out that the overall Rabi sowing process was encouraging and that area under pulses and oilseeds, including rapeseed and mustard, had also increased.


The acreage under wheat was 294.01 lakh ha as against 278.65 lakh ha last year, an addition of 15.36 lakh ha. However, the area under rice this Rabi season was a little lesser at 11.39 lakh ha as against 12.46 lakh ha last year.
Pulses were sown on 140.89 lakh ha this Rabi season as against 132.09 lakh ha last year, an increase of 8.81 lakh ha.
Coarse cereals accounted for another 41.28 lakh ha area compared with 43.48 lakh ha area last year. It denotes a decrease of 2.20 lakh ha.
Area coverage under oilseeds is 76.99 lakh ha area this season as against 72.48 lakh ha area last year, an increase of 4.51 lakh ha.
Area under rapeseed and mustard cultivation is 69.94 lakh ha compared with 64.52 lakh ha in 2019 season, up by 5.42 lakh ha.
Area under rapeseed and mustard crops is still increasing in Jharkhand, Rajasthan, Odisha, Punjab, West Bengal, Bihar, Assam, Chhattisgarh and even Arunachal Pradesh and Uttar Pradesh due to soil moisture and temperature advantages, a Ministry statement said.
It said that given the progress of the current sowing season and interactions with the states during weekly videoconferences, it was expected that the states would be able to meet the targets fixed for Rabi sowing due to availability of good soil moisture and better water storage in the country. - IANS