Delhi's flyover wall tersely tells Delhiites' stories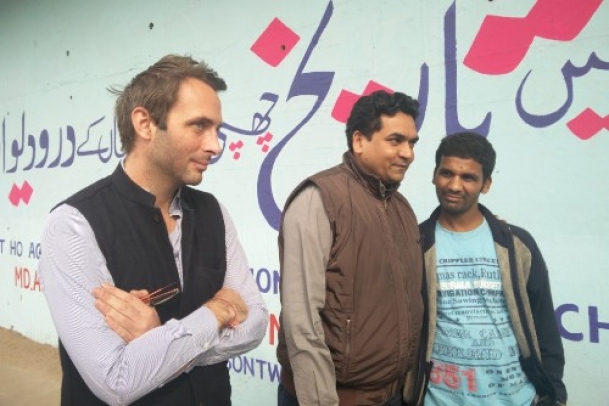 A wall of the Inter-State Bus Terminus (ISBT) flyover in the capital now adorns six messages on the theme '#MyDilliStory'.
The initiative, taken by Delhi-based French filmmaker Thomas Ellis and sculptor Aastha Chauhan, happened live on Wednesday here. It was part of a unique city painting campaign, wherein six winning tweets on Delhi were painted on the walls of the flyover.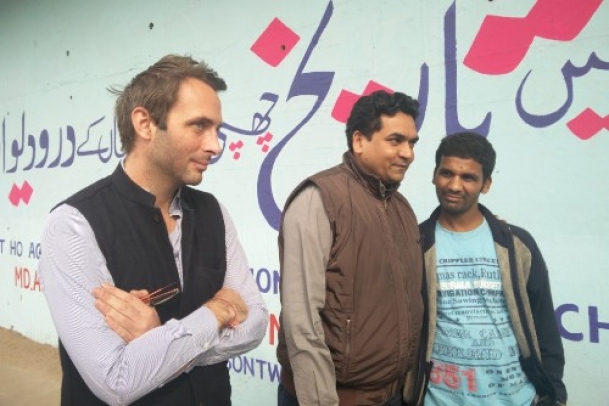 Thomas Ellis (left), who has been trying to help calligraphy artists, seen with Delhi Minister of Tourism, Kapil Mishra, and a signboard painter (Photo: IANS)

Inaugurated by Delhi Tourism Minister Kapil Mishra, the tweets, which included couplets and poems, were entries in a competition titled '#MyDilliStory', part of the 'Delhi, I Love you' movement.
The competition took place from September 5 to 26 and the twitterati had to share their jokes, anecdotes, ghazals, poems about the city. The final messages were chosen out of 8,000 tweets in four different languages -- Hindi, Urdu, Punjabi and English.
As many as 40 tweets have been shortlisted by a jury of journalists and writers. Six out of those found space on the ISBT flyover wall, while others will be painted across other locations in the city.
Stressing that the initiative also aims at promoting Hindi, Urdu and Punjabi in the city, Mishra said: "Art and languages form an important part of Delhi and its culture. This is an initiative that aims to promote the use of three key languages of Delhi -- Hindi, Urdu, Punjabi. It is a perfect blend of using local dialects to share the stories of Delhi by the people of Delhi and expressing them through art using public spaces."
The initiative is also giving a chance to traditional calligraphy artists, who used to paint the old school hoardings and portraits when the digital world did not even exist, to use their skill.
"The artists who are painting the stories are running out of work because of the digital medium today. This initiative is also to give them a job. This is to put the artists as well under the limelight," Ellis, who has also made a film on the artists, told IANS. - IANS