Uproar in LS over Rajnath's purported Modi comment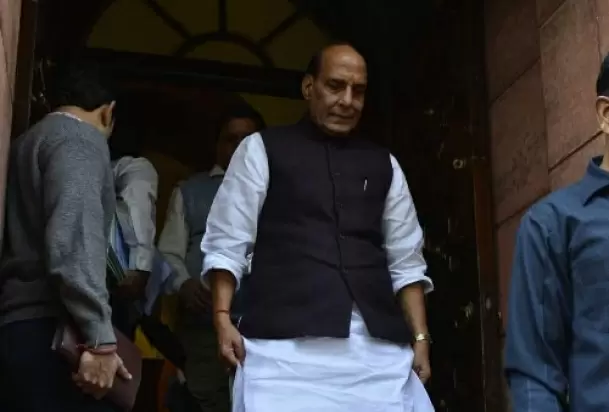 A purported comment by Home Minister Rajnath Singh that India had got "a Hindu ruler after 800 years" in Prime Minister Narendra Modi triggered turmoil in the Lok Sabha on Monday.
As the opposition and treasury benches debated over "intolerance", the house was adjourned thrice after CPI-M leader Mohammed Salim quoted Singh as making the statement to a magazine. The minister denied it.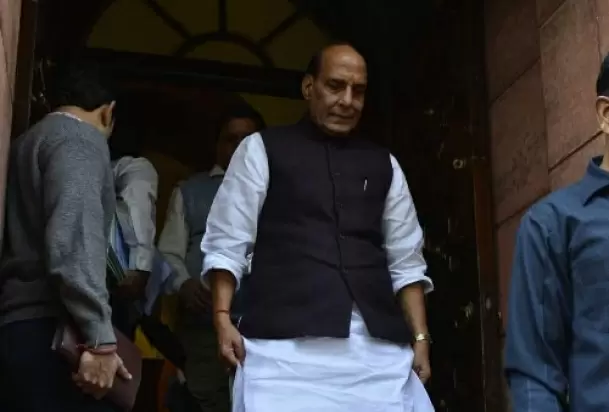 Mohammed Salim, a CPI-M member said Rajnath Singhwas quoted in a magazine as saying that India got "a Hindu ruler after 800 years in Narendra Modi" (Photo: IANS)

Salim, who initiated the discussion, cited the minister as saying that India got "a Hindu ruler after 800 years in Narendra Modi".
The standoff could be resolved only after Salim's comments, contested strongly by the ruling National Democratic Alliance, were expunged from the house proceedings.
The minister said he was deeply hurt by the claim.
"I have never been so much hurt in my parliamentary life. If a home minister makes such comments, he has no right to be in his post," he said, adding that MPs and even minorities know he can't make such remarks.
Minister of State for Parliamentary Affairs Rajiv Pratap Rudy asked Salim to withdraw the comments till their authenticity was ascertained.
Rudy said it would be difficult for members on the treasury benches to sit in the house after allegations "which are dangerous for the country".
Biju Janata Dal's Bhartruhari Mahtab said a member has to give prior notice before levelling allegations against another member.
Saugata Roy of the Trinamool Congress, however, said there was no denial from the minister after the magazine carried the purported comment.
Salim later said his intention was not to hurt the minister. Rudy pressed the Marxist MP to withdraw his words.
As the impasse continued, the speaker adjourned the house for an hour. When it reassembled, Rudy again asked the Communist Party of India-Marxist member to withdraw his remarks.
Salim refused. "This is also intolerance. This is ridiculous," he said.
As the standoff persisted, Deputy Speaker M. Thambidurai briefly adjourned the house.
When the house reassembled after its second adjournment, Congress member M. Veerappa Moily said since both Salim and Rajnath Singh had spoken, the matter should be put to rest.
But the stalemate persisted and the house was adjourned till 3.15 p.m.
When the house met at 3.15 p.m., Salim said he would have been happy if Rajnath Singh had become the prime minister instead of Modi.
Parliamentary Affairs Minister M. Venkaiah Naidu objected to this comment, and said such comments can also be made about CPI-M general secretary Sitaram Yechury.
Earlier, Rajnath Singh asserted that the government did not believe or agree that there was growing intolerance in the country.
But he said the government would seek suggestions from MPs who say so.
"We would like to have suggestions on how to stop it, from members who think intolerance is growing," he said.
Interestingly, Lok Sabha Speaker Sumitra Mahajan, before the discussion could start, urged members not to show their intolerance in the house and listen to the views of other members with patience.
Mahajan said MPs provide leadership to people and hoped the discussion will go in the right direction. - IANS