Nitish is Bihar CM again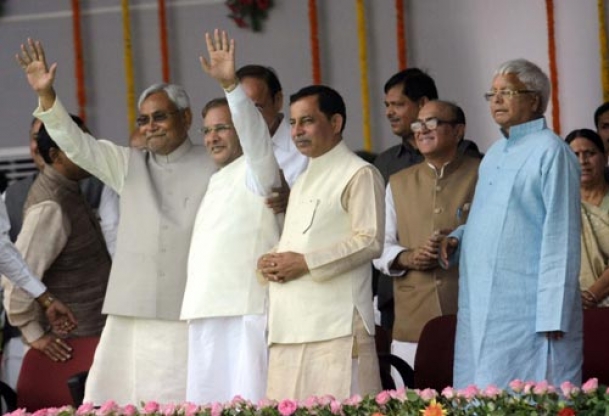 Cheered by over one lakh supporters, JD-U leader Nitish Kumar, who led the Grand Alliance to victory in assembly elections, on Friday took oath as the chief minister of Bihar at the head of a 28-member ministry of his party, RJD and Congress legislators.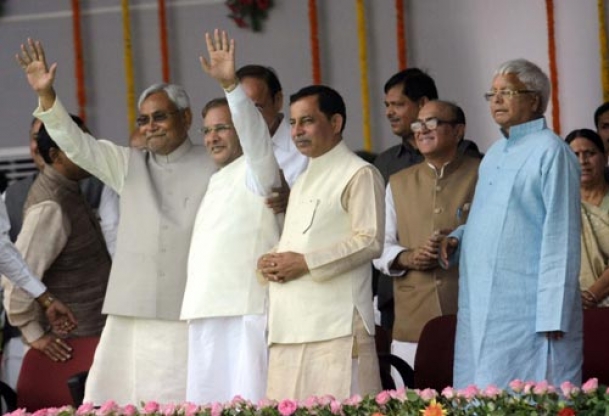 Bihar Chief Minister Nitish Kumar, JD(U) chief Sharad Yadav, and RJD chief Lalu Prasad Yadav during the swearing-in ceremony of the new JD-U-RJD-Congress coalition government in Patna (Photo: IANS)

Overseen by Governor Ram Nath Kovind, Nitish Kumar - dressed in his usual white kurta pyjama - took oath of office and secrecy in the name of God in Hindi at the sprawling Gandhi Maidan here.
It was the fifth time Nitish Kumar was becoming the chief minister. It is also the first time Bihar will be having a coalition government of the JD-U, RJD and Congress.
Lalu Prasad, whose Rashtriya Janata Dal (RJD) is the single largest party in the 243-member house, looked pleased as his sons, Tejaswi Yadav and Tej Pratap Yadav, took oath as ministers immediately after Nitish Kumar.
Besides Nitish Kumar, 12 legislators each of the RJD and JD-U and four from the Congress were sworn in as ministers. Lalu Prasad's sons earned the loudest cheers after the chief minister from the boisterous crowd.
The event was attended by a galaxy of political leaders including Chief Ministers Mamata Banerjee (West Bengal) and Arvind Kejriwal (Delhi), Congress vice president Rahul Gandhi, who reached the venue some 30 minutes after the event began, CPI-M general secretary Sitaram Yechury and former prime minister H.D. Deve Gowda.
Representing Prime Minister Narendra Modi on the dais was central minister M. Venkaiah Naidu.
The Grand Alliance won 178 of the 243 seats in the Bihar assembly. The Bharatiya Janata Party (BJP), which had hoped to oust Nitish Kumar, bagged 53 seats while its three allies together got five seats. - IANS