Parliament braces for stormy monsoon session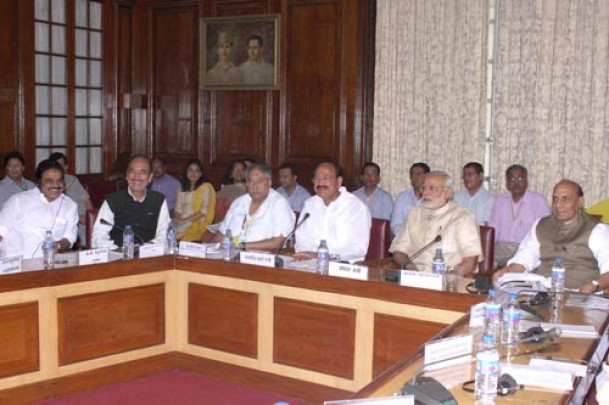 With the Congress insisting on the resignation of "scam-tainted" ministers and the government refusing to buckle on Monday, the monsoon session of parliament that starts on Tuesday is most likely to be stormy.
To add to the government's woes, opposition parties also appear to be in no mood to compromise vis-a-vis the controversial land bill, on which Prime Minister Narendra Modi on Monday called for a national consensus.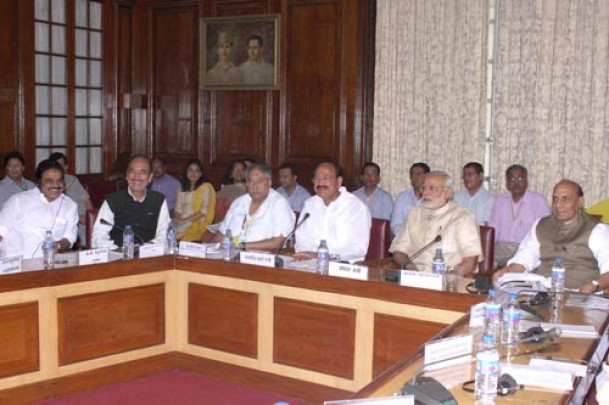 Prime Minister Narendra Modi, Union Home Minister Rajnath Singh, leader of opposition in Rajya Sabha and Congress leader Ghulam Nabi Azad and others during an all party meeting at the Parliament in New Delhi(Photo: Amlan Paliwal/IANS)

Lok Sabha Speaker Sumitra Mahajan, however, said leaders of different political parties assured her of cooperation in the smooth functioning of parliament.
The indications of the looming showdown in parliament emerged on Monday after an all-party meeting convened by Parliamentary Affairs Minister M. Venkaiah Naidu when the government ruled out the resignation of anyone.
"The question of resignation does not arise. No one has done anything illegal or immoral," Naidu said here. "There is no question of accepting any ultimatum from anybody."
He also said Sushma Swaraj was keen to make a statement in respect of the allegations against her regarding Lalit Modi's travel documents.
At the meeting, Congress leader Ghulam Nabi Azad pressed for the resignations of External Affairs Minister Sushma Swaraj as well as two chief ministers, Vasundhara Raje of Rajasthan and Shivraj Singh Chouhan of Madhya Pradesh.
Azad, who is Leader of Opposition in the Rajya Sabha, said he hoped Modi would announce the resignations of "scam-accused ministers" before Tuesday. "Passing the bills would (then) become very easy," Azad said.
The Congress has been seeking the resignations of Sushma Swaraj and Raje over their alleged links with former Indian Premier League chief Lalit Modi, and of Chouhan over the Vyapam recruitment scam.
Naidu rejected the Congress demand.
"Nobody can dictate terms to parliament. Parliament is sovereign," he said. "We are ready to discuss issues that the opposition wants to raise."
After the luncheon meeting with leaders of parties in the Lok Sabha, Speaker Sumitra Mahajan said all members assured they would cooperate and that the government was ready for all discussions.
The government also made it clear that BJP members would seek discussion on controversies faced by past and present Congress chief ministers, including Tarun Gogoi and Oommen Chandy if the Congress raked up issues concerning its chief ministers.
Referring to reports of a New Jersey-based consultancy firm charged with bribing Indian officials to get developmental projects in Goa and Guwahati during the Congress rule, Minister of State for Parliamentary Affairs Rajiv Pratap Rudy said the issue would be raised if the Congress made allegations about BJP leaders.
He said the BJP would also raise controversies faced by Chandy and Virbhadra Singh.
Earlier in the morning at an all-party meeting, Modi called upon them to move forward on the land acquisition bill that has created a major political divide.
"All party leaders should move forward on the bill," he said.
The opposition has slammed the bill as an attempt to acquire land for industrial houses. The government has denied the charge.
Rudy quoted Modi as saying that his government was, however, ready to accept all "good suggestions" from opposition parties on various issues.
Modi said it was the collective responsibility of the parties to ensure smooth functioning of parliament.
But the opposition remained adamant.
"The Samajwadi Party...will continue to oppose it," its leader Ram Gopal Yadav said on the land bill.
The all-party meeting was attended by, among others, Azad, Ram Gopal Yadav, Janata Dal-United's Sharad Yadav, Bahujan Samaj Party's Satish Mishra and CPI-M's Sitaram Yechury. - IANS