Navy aiming for 100 percent indigenous ships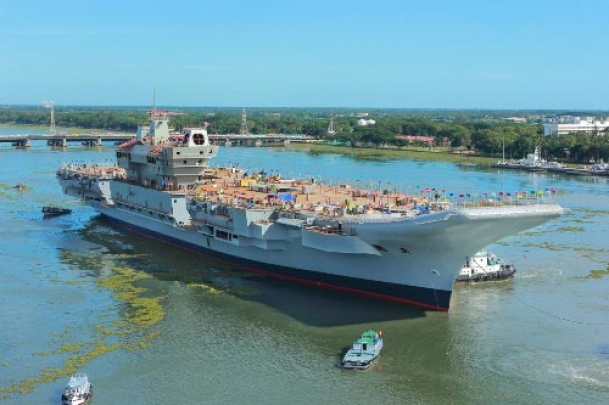 The Indian Navy is aiming to build ships which are "100 percent" Indian, navy chief Admiral R.K. Dhowan said here on Thursday.
But indigenising the "fight component" was a major challenge, he told a seminar here. The navy chief also said that a 15-year indigenization plan for the navy would soon be shared with India Inc.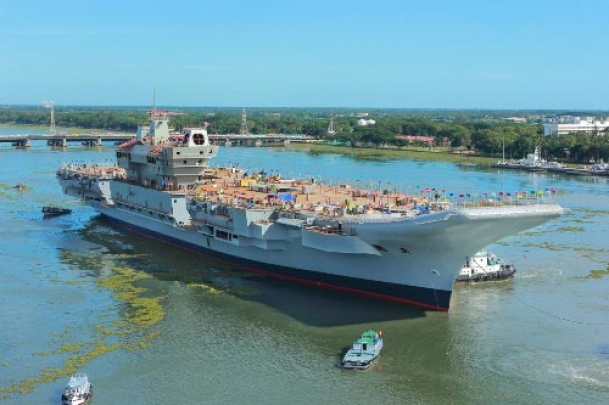 The indigenous aircraft carrier (IAC) of the Indian Navy INS Vikrant being undocked at the Cochin Shipyard in June (Photo: IANS)

"The Indian Navy needs to remain a multi-dimensional network centric force which is ready to take on any challenges in the 21st century," said Dhowan. "Future ships should be made 100 percent in India."
He said the 15-year indigenization plan had been articulated and, similarly, a science and technology roadmap has also been prepared with the Defence Research and Development Organisation (DRDO).
He said attention needed to be paid on indigenizing the "fight component".
"We are still lagging behind in fight component -- weapons, sensors. But steps are being taken," he said.
Vice Admiral Ashok Subedar, Controller, Warship Production and Acquisition, said the fight component constituted 60-70 percent value of the ship.
While the Indian Navy has achieved 90 percent indigenizaation in float component and 60 percent in move component, the fight component was still only 30 percent indigenized.
Dhowan also said there were "huge opportunities" in the naval defence sector for the private sector to tap. - IANS