Dawood's surrender offer was conditional, so rejected: Pawar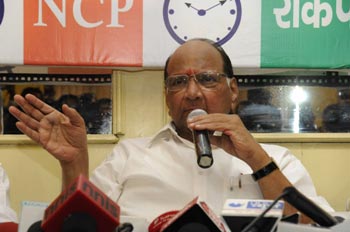 NCP chief Sharad Pawar on Saturday said lawyer Ram Jethmalani had contacted him over mafia don Dawood Ibrahim's readiness to surrender in the 1990s when Pawar was Maharashtra chief minister but the don had put forward conditions which were not acceptable.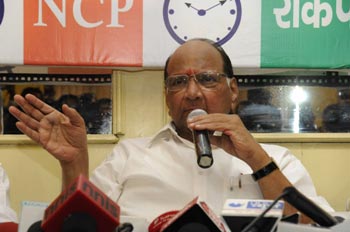 Sharad Pawar said the condition not to put Dawood in jail was not acceptable to the then government he headed in Maharashtra (Photo: IANS)
The conditions put forth for the surrender by the don were not acceptable to the state government and hence it was rejected, the Nationalist Congress Party president told media persons here.
The incident took place when Pawar -- who then belonged to the Congress party -- was the chief minister.
"It is true that Ram Jethmalani had given the proposal about Dawood's willingness to surrender. But, there was the condition that he should not be kept in jail. He wanted to remain in a house. This was not acceptable to us, we said he must face the law," Pawar said.
The NCP supremo was reacting to Jethmalani's charge that the state government rejected an offer by Dawood to return to India and go under house arrest as he feared for his life in a jail, as well as guarantees that he would not be subjected to third-degree torture by the Indian authorities.
Jethmalani claimed Dawood made the offer to surrender when they met in London but the subsequent terms and conditions were not acceptable either to Pawar or the then central government. - IANS