Goa govt relents on compulsory Sunday Yoga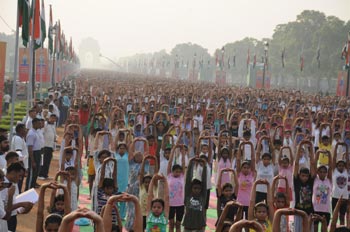 The Goa government on Friday made a U-turn on the compulsory participation of schoolchildren in a Yoga session on International Yoga Day on June 21, in the face of opposition from ministers and legislators from the minority community.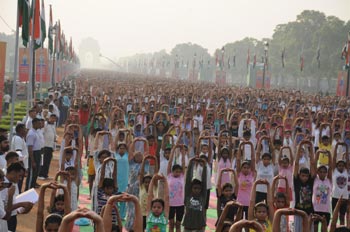 Thousands of participants doing Yoga at a full dress rehearsal for the International Yoga Day at Rajpath in New Delhi Friday (Photo: IANS)
The BJP-led Goa government has decided not to make Yoga compulsory for school students, Chief Minister Laxmikant Parsekar told reporters after a meeting of the state cabinet.
"They can do it (Yoga) on a Saturday or Monday in their schools. It does not have to be on a Sunday only," Parsekar said.
Parsekar's decision comes after minority legislators across party ranks, like Michael Lobo and Glen Ticlo from the BJP and Aleixo Reginaldo from the Congress, publicly opposed the plan to make Yoga compulsory for students on June 21, which happens to be Sunday.
Catholics account for 26 percent of the state population.
Forest and Environment Minister Alina Saldanha, a Catholic, said that she too voiced her opposition during the cabinet meeting.
Speaking to reporters on Friday at the state secretariat, Saldanha said that "it was not right" on the government's part to make Yoga compulsory for students.
"I believe Yoga is good for physical well-being of the body...I don't see any reason why it should be made compulsory and students should be called on a Sunday. I think it is not right," Saldanha told reporters.
Parsekar said the Catholics had to offer prayers in Church on Sunday and hence it was practically difficult for students from the minority community to attend a compulsory Yoga session.
Last week, the state government was forced to withdraw a circular issued to all schools earlier in June, seeking the presence of students for Yoga and 'Surya Namaskar' at an indoor stadium near the state capital.
The United Nations declared June 21 as the International Yoga Day in December last year.
Director for Sports and Youth Affairs V.M. Prabhudessai told IANS that nearly one lakh students would participate in the Yoga session on Sunday (June 21).
"We have coordinated this exercise in consultation with the school managements. We have not forced anyone to participate," Prabhudessai said. - IANS