Respite from heat as rain lashes Delhi, NCR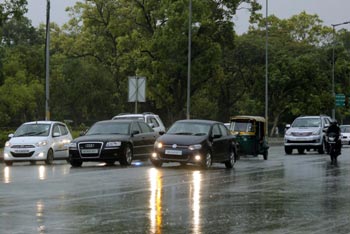 Heavy rain accompanied by a squall lashed the national capital and adjoining suburbs of Noida, Ghaziabad and Gurgaon on Saturday, bringing relief to people from the intense heat of the past many days but also affecting road traffic and flight movement.
The day began on a partly cloudy note, only to give way to a sunny sky. However, in the afternoon, the sky again turned dark and a massive duststorm followed by a thunderstorm hit the region at around 2.30 p.m. Some parts of the city witnessed a hailstorm as well.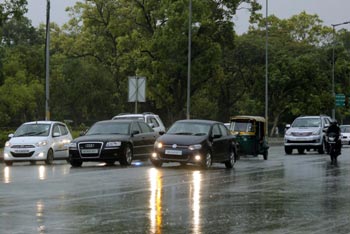 Domestic and international flights coming into Delhi had to be diverted due to the bad weather (Photo: IANS)
The national capital received 4.8 mm of rainfall till 5.30 p.m., said the India Meteorological Department.
The strong gusts of wind and heavy rain uprooted trees and caused water-logging leading to traffic snarls in many parts of the city while a shanty collapsed in slum clusters of Shakarpur in west Delhi and the roof of a house fell in north Delhi's Burari, said the Municipal Corporation of Delhi.
A total of 16 flights -- 13 domestic and 3 international - coming into Delhi had to be diverted due to the bad weather, said sources at the Indira Gandhi International airport.
The situation was no better on the roads.
As per Delhi Police traffic, jams were reported from south Delhi's Adhchini Marg, Rao Tula Ram Marg, Dhaula Kuan as well as ITO, Minto Road underpass, and Azad Market in central Delhi. Traffic was brought to a crawl at several other places including Karol Bagh in central Delhi, Lakshmi Nagar in east Delhi and on many stretches of Ring Road.
Several two-wheeler riders took refuge under flyovers and foot-over-bridges adding to the woes of motorists as the parked scooters and motorcycles blocked a portion of the road.
However, Saturday being a holiday, popular city hotspots like Connaught Place, India Gate, the three Dilli Haats along with the Delhi Zoo witnessed a rush of visitors who were eagerly awaiting showers for many days.
Sunidhi Batra, a college student at Central Park in Connaught Place said: "Thankfully, the heat is gone and I wish the rain continues through the weekend."
The sprawling lawns of India Gate were bustling with activity as people left the indoors for spontaneous picnics to make most of the pleasant weather.
"The rainfall has brought much awaited respite from the scorching heat. Therefore, we decided to come here with friends and family," Rubeen Malik, a resident of the walled city said as she savoured an ice-cream with her family at India Gate.
Private weather forecaster Skymet said the showers were pre-monsoon rains and will continue for the next couple of days.
"These are pre-monsoon showers caused due to two cyclonic circulations -- over north Rajasthan and Pakistan, and Uttar Pradesh. The showers will continue in the region over the next couple of days," G.P. Sharma, chief, Skymet told IANS.
The Met Office too said that showers will continue in Delhi.
"There will be rain and thunderstorms in some parts of the city tomorrow (Sunday)," said an IMD official.
Sunday's maximum and minimum temperatures are likely to hover around 38 and 27 degrees Celsius.
Saturday's maximum temperature was recorded at 39.7 degrees while the minimum settled at 29 degrees - both a notch above the season's average.
The day's maximum humidity was recorded at 82 percent.
Friday's maximum temperature was 41.6 degrees Celsius, two notches below the season's average, while the minimum temperature was 29 degrees Celsius, a notch below the season's average. - IANS