Court suspends Salman's five-year jail sentence
Quaid Najmi
&nbsp | &nbspMumbai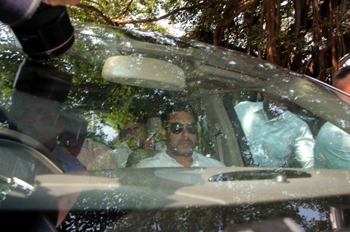 In a major relief to Bollywood superstar Salman Khan, the Bombay High Court -- while admitting his appeal -- on Friday suspended his five-year jail sentence in a 2002 hit-and-run case that killed a man, paving the way for him to secure regular bail.
Special public prosecutor Pradeep Gharat said Justice A.M. Thipsay directed Salman to furnish a fresh bail bond of Rs.30,000 to the Mumbai sessions court.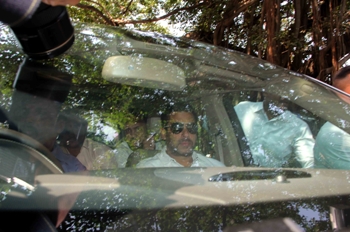 Actor Salman Khan arrives at Mumbai sessions court in Mumbai on Wednesday ( File Photo : IANS )
The interim bail granted to the actor by the high court two days ago has been extended. He will not be taken into custody pending disposal of his appeal against the lower court judgment, Gharat told the media.
Later, on Friday evening, Salman, 49, accompanied by his team of lawyers, reached south Mumbai and surrendered before the Mumbai Sessions Court.
He furnished a fresh bail bond of Rs.30,000, completed bail formalities and then returned home.

As thousands of his fans celebrated, Bollywood celebrities expressed joy that the "Dabangg" star had got his freedom. But Bollywood reaction was relatively muted on Friday - after many of them came under attack for the way they responded to his jail term two days ago.

As in the past, Salman's sisters - Alvira and Arpita - remained with the legal team overseeing all the formalities.

Earlier, in the high court, Justice Thipsay said: "It is the normal rule that when the sentence is below seven years, it can be suspended after the appeal is admitted. The sentence has to be suspended. We can't take pleasure in seeing somebody incarcerated till the appeal is decided. Even on the basis that he was driving, it is a case for suspension of sentence."

The judge ruled that Salman could not be kept in jail till his appeal against the sessions court judgement was heard and decided.

"Why should his right suffer when the appeal is admitted and kept pending? In many cases people have suffered and spent their entire prison term only to be acquitted later by the high court," he said at his packed courtroom.

Observing that there were several other points raised by Salman's defence challenging the sessions court judgment which "need consideration". These include whether section 304 II (culpable homicide not amounting to murder) could be applied in the case.

The judge, however, directed Salman to surrender his passport and seek the court's permission if had to travel abroad.

Among other things, the judge observed that there was no possibility of Salman absconding if given bail. He said the appeal would be expedited and posted it for final hearing in July.

In nearly two hours of arguments at the high court, Salman's lawyers, led by renowned advocate Amit Desai, said the prosecution had failed to examine singer Kamaal Khan as a witness, that the defence did not get an opportunity to cross-examine (now deceased) police bodyguard of Salman, Ravindra Patil, and that the accident on September 28, 2002 was caused due to a tyre burst of the Toyota Land Cruiser.

Desai also raised questions on the conclusions of the lower court, including the number of people present in Salman's vehicle at the time of the accident, and the testimony of Patil who was an "unwilling witness" whose statement was taken under duress by issuing a non-bailable arrest warrant against him.

Maharashtra government pleader Sandeep Shinde strongly opposed the suspension of sentence arguing that Salman was drunk at the time of the accident and that the fourth person's presence in the car was brought in as an afterthought.

Though Shinde did not oppose the admission of the appeal against the judgement, he said Salman knew the consequence of his rash, negligent and drunken driving.

On May 6, Additional Sessions Judge D.W. Deshpande found the actor guilty of all charges and sentenced him to five years in jail.

Celebrations erupted among thousands of Salman fans outside the high court, the sessions court and the Khan residence in Bandra West. Fans danced, sang songs, screamed in sheer joy and distributed sweets.

Outside the courts, thousands of fans and office-goers stood for hours in the blazing sun to catch a glimpse of Salman and the other celebs.

A disturbed 32-year-old man, G. Kundu, who claimed to be a Salman fan, attempted suicide by consuming poison and distributed a purported suicide note outside the high court. He was rushed to a hospital. - IANS