Surf School for social change gets new facility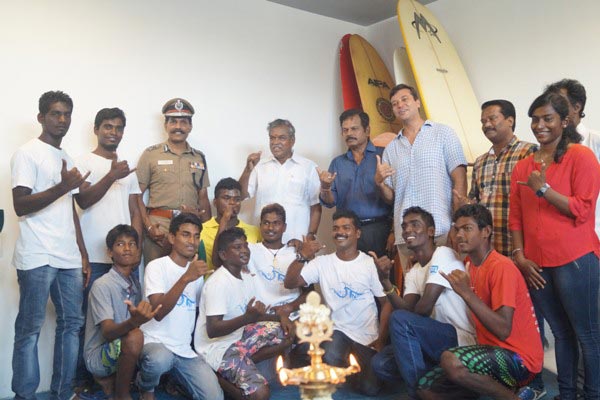 The Covelong Point Social Surf School – supported by the TT Group and EarthSync –has launched its new surf facility in Kovalam village on East Coast Road (ECR), near Chennai.
S Sundaraj, Minister for Sports and Youth Welfare, presided over the inaugural function held last Sunday. Hemant Kumar Sinha, Additional Chief Secretary, Youth Welfare & Sports Development Department, Government of Tamil Nadu, and C Sylendra Babu, ADGP, Coastal Security, Government of Tamil Nadu, were the special guests.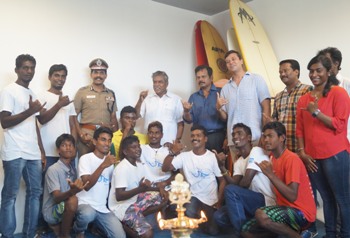 Murthy Megavan, a fisherman turned surfer, who started the school with the special guests at the inaugural function
The new facility features a cafe, guest rooms, a lounge, shower/bathroom facilities and locker rooms, with the ultimate aim of providing a sustainable source of income for the village, while simultaneously supporting a series of social causes, said a press release from Arun Vasu, Chairman & Managing Director, TT Group.
The release further stated: "As India's first surfing village, the district of Kovalam (Chennai) has fast become a mecca for surfers from all around the world and has been producing some of the country's top surfers within a short span of time.
"The Covelong Point Social Surf School with the support of the TT Group and EarthSync, has been supporting the young surf talent emerging from Covelong, and also uses surfing as a catalyst for positive change in the tsunami afflicted South Indian village – by educating children of the village, conducting alcohol and drug abuse awareness programs, organizing eye and health care camps, and executing numerous beach clean up efforts to promote environmental awareness.
"These stories of the journey and activities have been documented in the EarthSync documentary Covelong Point, due for worldwide release in 2015. The annual Covelong Point Surf and Music Festival also takes place this year from Sept 18th - 20th2015.
"The school is founded and run by Murthy Megavan – a fisherman turned surfer whose inspiring story culminated in realizing his dream to open a surf school in the village. Along with a team of certified surf instructors, Murthy offers surf lessons and will also cater to sports like kayaking, windsurfing, and providing fishing outings with the Covelong community.
"The café will serve an eclectic variety of global cuisine. Running the school in the village is part of an initiative to empower the community to be self-sufficient and be able to generate income through such ventures. Part of the earnings of the school will also go towards supporting other social projects in the village." – TWL Bureau