Rahul Gandhi is back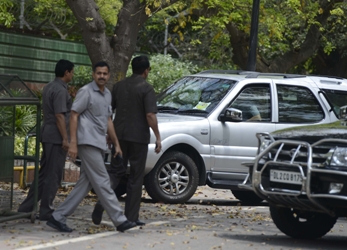 Congress vice president Rahul Gandhi, who remained out of the public view for 56 days, returned to the national capital on Thursday.
"He (Rahul Gandhi) is back... I have no doubt that he will be not only taking proactive measures but also with dynamism, with commitment, provide leadership," Congress leader Anand Sharma said.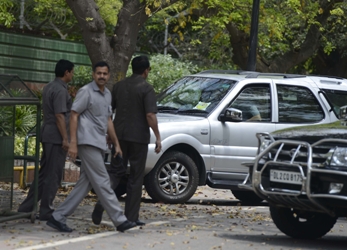 Gandhi is
scheduled to hold meetings with party leaders as well as farmers' leaders on Friday (Photo : IANS )
He returned amid intense speculation regarding his whereabouts.
Rahul Gandhi, 44, arrived at his residence around noon on Thursday, where his mother and party president Sonia Gandhi as well as his sister Priyanka were already present, an AICC official told IANS.
A TV channel showed photographs of Rahul Gandhi sitting in a vehicle as an SPG commando stood close by.
After missing from action since the budget session of parliament began on February 23, the Congress vice president will address a kisan-mazdoor (farmer-labour) rally here on April 19 to protest what the Congress has described as the "anti-farmer" Narendra Modi government.
Gandhi is also scheduled to hold meetings with party leaders as well as farmers' leaders on Friday to discuss the contours and details of the rally at Ramlila Ground here.
On his return, Gandhi was expected to be elevated as the party chief at an AICC session in April, but the session was later rescheduled until after July.
Party worker Jadish Sharma, however, told reporters outside Rahul Gandhi's residence that he would soon be made party chief after April 19.
Sharma also claimed that Rahul Gandhi was in Uttarakhand during his sabbatical and not in Bangkok as was being reported by a section of the media.
Rahul Gandhi's leave of absence prompted questions about his leadership skills.
Former Delhi chief minister Sheila Dixit has been quoted as saying, "...(in case of) Rahul, of course, there is a question mark, there is scepticism because you have not seen him perform as yet."
Her remarks echoed the sentiments of a few other senior leaders who demanded Sonia Gandhi should continue as party president.
The party, however, contended Gandhi's absence was due to his need to chart out the party's future course in "isolation" after a series of electoral drubbings.
Fifth in a row since the 2014 general elections, the embarrassing drubbing in Delhi early this year posed a formidable challenge for the party to reverse its sliding fortunes ahead of the Bihar assembly polls later this year. - IANS