Extended weekend ups Himachal tourist influx
Vishal Gulati
&nbsp | &nbspShimla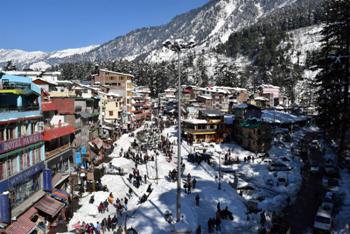 The onset of a long weekend from Saturday is set to bring in hordes of tourists into Himachal Pradesh. In Shimla alone, the hospitality industry is gearing up to play host to no less than 50,000 tourists in the extended weekend that lasts till April 14.
Keeping in mind the holiday bonanza, members of hospitality industry said some private hoteliers in prominent destinations like Shimla, Kufri, Manali, Dharamsala, Palampur, Kasauli and Chail have already hiked room tariffs.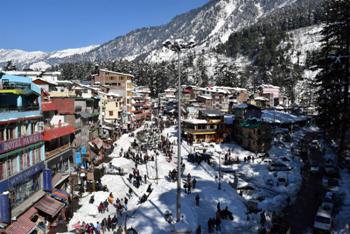 A view of snow covered Manali (File Photo: IANS)
Available information suggest a room fetching Rs.1,000 during the off season is expected to be let out at Rs.2,000 a day in some prime hotels.
The tourism department estimates, which normally attracts weekend tourists mainly from the plains of north India, will be richer by approximately Rs.1 crore because of the tourist influx.
Apart from the weekend, Tuesday is B.R. Ambedkar's birth anniversary and also festival of Baisakhi. So by taking a leave on Monday and combining this with the weekend, people could celebrate for four days at a stretch.
"Almost all our hotels are packed to capacity this weekend," Himachal Pradesh Tourism Development Corporation deputy general manager Vijay Sharma told IANS.
He said most tourists prefer to visit those destinations from where they can enjoy the view of snow-laden hills.
The most sought after destinations are Shimla, Narkanda, Sangla, Kasauli, Chail, Manali, Palampur, Dharamsala and Dalhousie, he said.
"The occupancy is good not only this weekend but also next weekend," added D.P. Bhatia of Clarke's Hotel in Shimla.
During the next weekend, there would be a three-day leave for both central and state government employees till April 20, on account of Parshuram Jayanti.
Chandigarh-based lawyer Raman Sharma said: "The Punjab and Haryana High Court is closed for nine days from today (April 11). This means over 8,000 lawyers and their families are holidaying during this period."
Manali remains a favourite for tourists due to the snow its nearby hills receive.
"Nearby hills of Manali still have plenty of snow where the tourists can enjoy skiing, snow scooter ride and hurl snowballs at each other," Manali-based travel agent M.C. Thakur told IANS over phone.
The mountain peaks viewed from Shimla's historic Ridge are also wrapped in a thick white blanket of snow.
"What a refreshing experience it is to see these white hills," said Aamira Chadha, a tourist from Delhi, while watching the Kinnaur range from Shimla.
Similar conditions prevail at the peaks overlooking the tourist resorts of Dharamsala and Palampur.
An official of the meteorological office in Shimla said the western disturbances that brought snow and rain are likely to become active for a period of two days from Saturday.
"There are chances of rain and thundershowers in Shimla, Manali, Dharamsala and other tourist spots till Sunday," he said.
The weather office has advised tourists to wear woollens before venturing out into the open.
While Shimla, once the summer capital of British India, has 273 hotels and guest houses, another popular resort, Manali has 229. Dharamsala, Dalhousie, Palampur and Kasauli have 170, 84, 35 and 13 hotels and guest houses, respectively. - IANS