IAS officer's death: Centre ready for CBI probe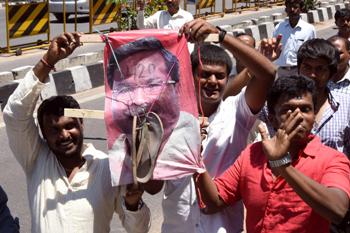 The controversy surrounding the mysterious death of IAS officer D.K. Ravi took on a stronger political colour on Thursday with the BJP-led central government saying it was ready for a CBI probe if Congress-ruled Karnataka agreed to this.
Home Minister Rajnath Singh said in the Lok Sabha that the central government was ready to order a probe by the Central Bureau of Investigation (CBI) into Ravi's death.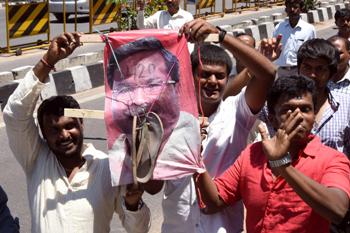 Members of Vokkaliga community stage a demonstration to demand CBI probe in the mysterious death of Karnataka IAS officer D K Ravi in Bengaluru (Photo: IANS)
"We are ready for a CBI inquiry if the state government wants," Rajnath Singh told the Lok Sabha during zero hour after Bharatiya Janata Party members from Karnataka met him and demanded that the premier investigation agency probe Ravi's death.
Ravi was found dead on March 16 in his official apartment by his wife Kusuma.
Police prime facie termed the death as suicide as there were no external injuries on the body, which was found hanging from a ceiling fan in the officer's bedroom.
In Bengaluru, the assembly was adjourned till Monday amid shouting and sloganeering by opposition lawmakers against the state government for not allowing a CBI probe.
The ruling Congress maintains that a Criminal Investigation Department (CID) probe was underway to find out if Ravi's death was suicide or caused by other means.
In the Lok Sabha, Rajnath Singh said a few senior Indian Administrative Service (IAS) officers from the state have also sought a CBI probe into the death of the 36-year-old 2009 batch officer, who was working as additional commissioner of the state commercial tax department in Bengaluru.
"I have spoken to the Karnataka chief minister (Siddaramaiah), who said he would send a detailed report to me within a couple of days," Rajnath Singh said.
"If the state government wants (a CBI probe), then as soon as I get a representation from it, we will be ready for a CBI inquiry," he said.
The Congress government in the state has rejected the demand for a CBI probe by the opposition BJP and JD-S as well as by Ravi's family and the public.
According to Janata Dal-Secular leader H.D. Kumaraswamy, Ravi's parents would hold a protest again if a CBI probe is not ordered in the next three days.
Pralhad Joshi, BJP's Lok Sabha member from Dharwad, said in New Delhi: "The CID works under the Karnataka home minister (K.J. George) against whom fingers are being raised", after staging a protest with other MPs from Karnataka near the Mahatma Gandhi statue in the parliament complex.
Former chief minister and BJP's Lok Sabha member from Shivamoga B.S. Yeddyurappa said the BJP would seek permission from Speaker Sumitra Mahajan to raise the issue in the Lok Sabha.
In Bengaluru, BJP and JD-S members submitted a memorandum to Governor Vajubhai Vala at Raj Bhavan, seeking his intervention for handing over the case to the CBI.
Akhil Bharatiya Vidyarthi Parishad (ABVP) activists held a protest in the Karnataka capital during the day, demanding a CBI probe into Ravi's death. They also clashed with police when they were not allowed to march towards Vidhana Soudha.
Protests also took place at Kolar and Tumakuru against the state government for not allowing a CBI probe.
Ravi, who hailed from Tumakuru district, was deputy commissioner of Kolar in 2013-14 where he became popular for taking action against sand and land mafias. - IANS