Daylong snowfall hits life in Kashmir Valley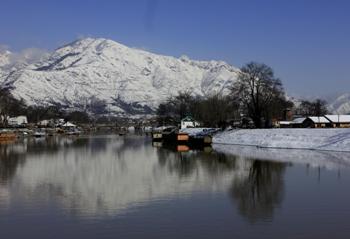 Uninterrupted daylong snowfall on Monday cut off the Kashmir Valley from the rest of India, disrupting surface and air traffic. Electric supply also snapped at many places here.
Sonam Lotus, director of the Met office here, told IANS that the weather would improve from Tuesday.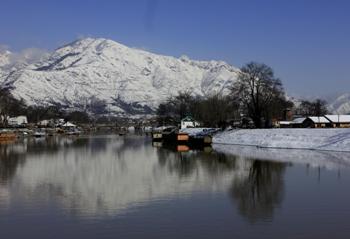 A view of the Jhelum river after snowfalls in the Kashmir Valley, in Srinagar (File Photo: IANS)
"After Tuesday we are expecting fair weather in Jammu and Kashmir for a week," Lotus said.
Heavy snowfall forced the closure of the Srinagar-Jammu highway for a second consecutive day on Monday after more than two feet deep snow piled up on the road in the Bannihal sector.
Train service from Baramulla to Bannihal was suspended on Monday due to the accumulation of snow on the track.
Air traffic to and from the valley remained suspended due to poor visibility and slippery conditions on the runway at the Srinagar airport.
Both intra- and inter-district road connectivity in the Kashmir Valley was disrupted too.
Commuters were seen stranded at many places in Srinagar and elsewhere in the valley.
Electric supply in many parts of Srinagar and in other places of the valley was disrupted after electric poles and tree branches collapsed on the electric distribution systems.
Authorities have ordered suspension till Wednesday of classes up to Class 5 in all the schools of the Kashmir Valley.
Meanwhile, students appearing for the school-leaving Class 12 exams being conducted by the Jammu and Kashmir Board of School Education in the valley have demanded their postponement.
Authorities said a decision would be taken if the snowfall continued through Monday night.
Mobile phone services by various service providers were disrupted due to power failures, especially in far-flung areas.
Authorities have issued avalanche warnings for people living in the higher reaches.
Three people, including a girl, were killed in Jammu and Kashmir on Sunday due to landslides.
"People living in avalanche prone areas of the valley have been advised to exercise extreme caution even after the snowfall stops.
"People must avoid moving out of their homes in such areas," an official of the disaster management office said here. - IANS