AAP's national executive to decide fate of Bhushan, Yadav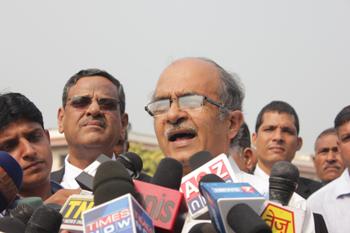 The AAP will hold a meeting of its national executive Wednesday to decide the fate of two senior leaders - Prashant Bhushan and Yogendra Yadav - who have been critical of party head and Delhi Chief Minister Arvind Kejriwal.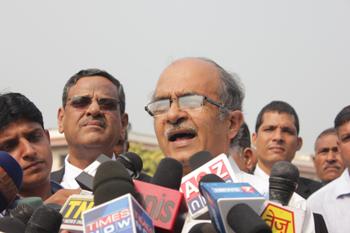 Senior AAP leaders Yogendra Yadav and Prashant Bhushan (in photo) have been raising the issue of 'one man, one post' and the party becoming 'person centric' (Photo: IANS)
Addressing a press conference here on Monday, party spokesperson Sanjay Singh said that a conspiracy to remove Kejriwal from the post of the national convener has been afoot for the last six to eight months.
"There were attempts being made to remove Kejriwal as the national convener of the party," he told reporters.
Talking about letters being written by members to party authorities, some of whom are with the media, he said the party will discuss the recent turn of events, including the leakage of letters in its national executive meeting.
"The continuous leakage of letters written by party members has made the party look like a joke," he said.
Aam Aadmi Party (AAP) founding members Yadav and Bhushan, who have been raising the issue of 'one man, one post' and the party becoming 'person centric', might be asked to step down from their posts in the political affairs committee or assume non-active roles, party sources said.
They said the party won't ask them to leave but if they choose to do so, they won't be stopped.
Party lokpal Admiral L. Ramdas, in a letter which was leaked to the media, had pointed to two camps emerging within the top leadership and had asked the AAP to reconsider the 'one man, one post' arrangement.
Efforts were on to contain the differences among the party members with former journalist and party member Ashutosh tweeting that the developments were just a "clash of ideas".
Yadav slammed reports about the crisis in the party.
"Voters in Delhi have given us a huge mandate and this is the time to work more with a large heart," Yadav wrote on Twitter.
"The country has placed a lot of hope with us. And I can only appeal that we should not lower that expectation with our petty issues. I pray that better sense prevails on us," he added. - IANS