Delhi halves power tariff, gives 20,000 litres free water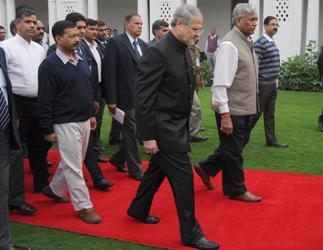 Twelve days after taking over the reins of power in Delhi, the Arvind Kejriwal-led AAP government Wednesday announced a 50 percent slash in power tariff up to 400 units and 20,000 litres of free water per household.
The rates will come into effect from March 1, announced Deputy Chief Minister Manish Sisodia here after a cabinet meeting.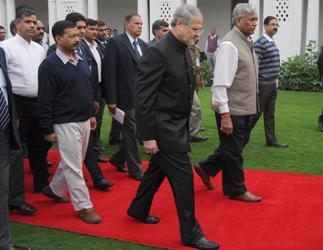 Delhi Chief Minister Arvind Kejriwal seen with Delhi Lt. Governor Najeeb Jung and Delhi Legislative Assembly Speaker Ram Niwas Goel (Photo: IANS)
"The reduction in power tariff will benefit 36,06,428 families, which is around 90 percent of the city's population," Sisodia said, adding that those consuming over 400 units would have to pay the full bill.
Sisodia also said that around 18 lakh families will be able to reap the benefits of free water and informed that the Delhi Jal Board has been directed to speed up the process of setting up infrastructure to provide water to colonies which do not have pipelines.
Slashing power tariff and giving free water were two of the key electoral promises made by the Aam Aadmi Party ahead of the Delhi assembly polls, which the party won with a landslide majority.
During its last stint of 49 days in Delhi in 2014, the AAP government had announced a 50 percent reduction in power bills as well as 700 litres of free water for every household on a daily basis.