Records tumble following Gayle's 215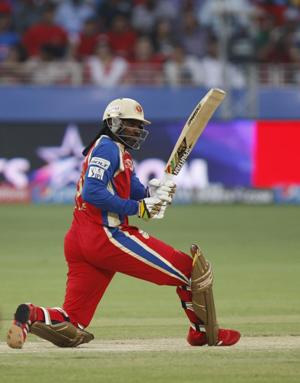 Chris Gayle's blistering knock has created a series of new records (File Photo: IANS)
Chris Gayle's majestic 215 broke several World Cup and One-Day International (ODI) records when the West Indies took on Zimbabwe in a Pool B clash at the Manuka Oval here Tuesday.
The following is the list of records registered:
* Gayle smashed the highest score of a World Cup match. The previous best was South African Gary Kirsten's 188 not out against the United Arab Emirates in 1996
* The 138-ball knock was the fastest double hundred in ODIs
* West Indies' total of 372/2 is the fifth highest total in World Cup history. The biggest total was by India, who scored 413/5 against Bermuda in 2007
* Gayle combined with Maron Samuels (133 not out) to score 372 runs - the highest ODI partnership. It bettered the previous best between Sachin Tendulkar and Rahul Dravid, who put together 331 against New Zealand in 1999. The previous best World Cup partnership also involved Dravid, who with Sourav Ganguly, struck 318 runs against Sri Lanka in 1999. These are the only three partnerships to have crossed the 300-mark in ODI history
* The Jamaican hit an incredible 16 sixes, equalling Rohit Sharma and AB de Villiers ODI record and registering a new World Cup record for the most number of sixes in a match
* The 35-year-old became only the fourth batsman and first non-Indian to score an ODI double hundred. Legendary Sachin Tendulkar was the first to score an unbeaten 200 against South Africa in 2010. The next year, Virender Sehwag smashed 219 against the Windies. Current India opener Rohit Sharma is the only batsman with two double hundreds to his name which came against Australia (209 in 2013) and Sri Lanka (264 in 2014). The latter is the highest individual score in ODIs.
* Along the way, Gayle passed 9,000 career runs and scored his 22nd ODI century. He holds the record for the most number of centuries for any West Indies player. The second best is Brian Lara with 19
* With the century, Gayle became the only batsman in history with an ODI double hundred, Twenty20 International century and Test triple ton - IANS