For Delhi's homeless, voter i-card a passport to better life
Sushil Kumar
&nbsp | &nbspNew Delhi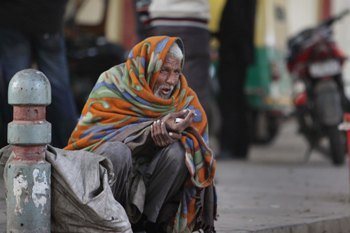 Neetu Shahi, a 35-year-old homeless woman and mother of four small children, feels lucky she has a voter identity card which will allow her to cast her ballot in the upcoming Delhi election.
Shahi is among a growing number of homeless people - numbering nearly 10,000 - who can cast their vote due to efforts of the Election Commission. Polling officials in Delhi said 9,369 homeless people will be eligible to exercise their franchise in the Feb 7 poll.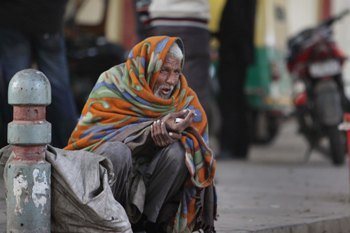 Around 10,000 homeless people will cast their vote in the Feb 7 polls in New Delhi (Photo: Indian Photo Agency - photo for representational purpose only)
Though official data puts the number of homeless in the metropolis at around 65,000, it is not easy to keep track as many of them keep changing their location. Shahi has been living on a footpath near the Bangla Sahib Gurdwara in central Delhi for many years now and, like many others there, she depends on the gurdwara for her daily meals.
"Voting or not... it does not make any difference for us. But I will still vote," she told IANS.
The voter i-card is not a simple document for Shahi, which will allow her to vote. She feels it is a passport to improve her life.
"The card will help me get my children enrolled in government-run schools," she said.
Shahi, like many other homeless people IANS spoke to, hopes the voter i-card will also help them get permanent shelters from the government.
Delhi Chief Electoral Officer (CEO) Chandra Bhushan Kumar told IANS that polling officials were following all the guidelines in enrolling homeless people.
"Most of them live on footpaths and night shelters, and we follow all standard guidelines of the Election Commission before enrolling them," the CEO said.
He said 5,500 homeless voters were registered with the poll panel for the 2013 assembly elections, while the number of such voters in Delhi for the Lok Sabha elections rose to 7,614.
The CEO described the increase as a "positive sign" for the electoral process.
He said poll panel officials checked about the presence of a homeless person thrice at a particular point to ascertain whether he or she continued to live there.
A special drive, which started Jan 5 and ended ahead of the announcement of poll dates, was also conducted to enroll the homeless.
He said the homeless voters were being encouraged to cast their ballot.
Vishal, a 70-year-old homeless woman, who came to Delhi five years ago from Chennai, stays on pavements near Gole Dak Khana.
"I came to Delhi long ago. I knew I would go back home (Chennai) but somehow I stayed here. Now I feel this is the place I belong to," she told IANS.
She said she has received her voter i-card and will use it to prove her identity to policemen. "I will feel more at home in Delhi now," she said.
Officials said the homeless people mostly stay at night-shelters, on pavements, under flyovers and at bus terminals. Some of them were addicted to drugs.
Sonu, a 20-year-old homeless youth who keeps shifting from one place to another, said he had lost his parents when he was quite young and grew up on footpaths of the national capital.
Sonu, who will vote for the first time, is excited about exercising his franchise.
"It will be my first chance to vote. I am excited and will certainly vote," he told IANS.
"Some people came, asked my name and filled a form. This is how I got my card," he added.
Sonu said the voter i-card will help establish his identity and help him get employment.
"I work as a labourer. Sometimes rich people come and give us some money or food when they see us sleeping on footpaths, but I have not seen anybody from the government helping us," he said. "The card will give us some identity now." - IANS