Sussanne Roshan celebrates Christmas with orphans
Actor Hrithik Roshan's wife Sussanne became Santa Claus for orphaned children here and distributed gifts at Bal Asha Trust.
Creative director of TheHomeLabel.com -- a lifestyle e-commerce brand, Sussanne also decorated a Christmas tree at the Trust here Sunday.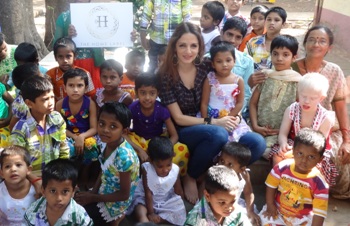 Sussanne Roshan celebrates Christmas with children at the Bal Asha Trust (Photo: IANS)
Bal Asha Trust, a non-profit making voluntary organisation, has been working in the field of women and child welfare and development since 1985.
"Christmas is the season to share, and with a great launch month here at thehomelabel.com, the team and I thought it only fit to share our joy with the kids at Bal Asha," Sussanne said in a statement.
"We will be decorating a tree at the orphanage with ornaments and stockings available on thehomelabel.com for the delight of the 3 to 7-year-old kids. The Label Corp and I take our social responsibility very seriously and hence as a corporation would like to start early on," she added. - IANS