Heart harvested in Bengaluru, transplanted in Chennai child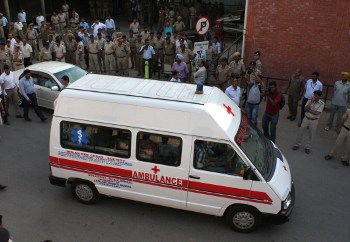 The heart of a brain dead one year and 10-month-old infant was harvested here and flown to Chennai Friday by a special aircraft to be transplanted in a two year and eight-months-old child, in record time, thanks to the 'green corridor' the city traffic police opened up for the emergency operation.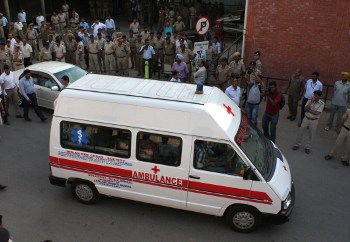 Bengaluru police created a green corridor from Manipal Hospital to the airport for the ambulance carrying the heart (Photo: Indian Photo Agency - for representational purpose only)
"We got a call from Manipal Hospital around noon asking us to create a green corridor for taking a heart from the HAL airport for transplantation in a Chennai hospital. Though the distance is 2.2 km, we stopped vehicular traffic on the busy road to allow the ambulance reach the airport in record time," Deputy Commissioner of Police (east) N. Satish Kumar told IANS.
The donor's heart was rushed to Chennai in a blue box containing an organ transplant solution, which allows it to beat for at least six hours after being retrieved from the body.
"The infant was declared brain dead late Thursday four days (Dec 14) after he was brought to our hospital with brain damage due to hypoxia (lack of sufficient oxygen supply to brain)," Manipal Hospital medical director Sudarshan Ballal said.
The hospital alerted the zonal coordination committee for Karnataka, the nodal agency for organ transplants in the state, which identified the recipient boy at Fortis Malar Hospital in Chennai, waiting for a donor's heart in the same age group.
"When the doctors told us that our boy was brain dead but his other vital organs were functioning, we consented to donate his heart to the needy child in Chennai," a grieving father told reporters at the hospital here.
This is the second time in four months when traffic police facilitated a green corridor (vehicular traffic-free roads) to transport a heart from one city to another in record time.
A 37-year-old dead woman's heart was harvested Sep 3 at the privately-run BGS Hospital in the city's south-west suburb and flown to Fortis in Chennai in a special aircraft for transplantation into a 60-year-old ailing patient in four hours. - IANS