Crafts bazaar to offer Tibetan artisans' products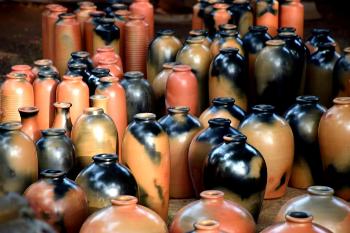 The annual Dastkari Haat crafts bazaar, which will start from Jan 1, 2015 here, will not only bring the finest handicrafts from across the country, but will also offer intricate handicrafts from Tibet.
To be held at Dilli Haat, the 29th edition will conclude Jan 15.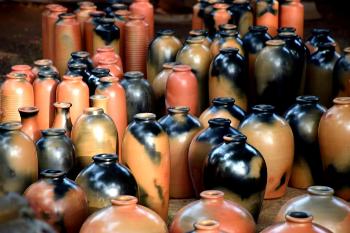 Items on display will include ornamental ceramic pottery and copper items from Maharashtra (Photo: IANS)
Jaya Jaitly, president of NGO Dastkari Haat Samiti, which organises the bazaar, said in a statement: "Visitors will get an opportunity to witness the vibrant colours and delicate workmanship of handicrafts which have been meticulously put together."
Some of the special features of the bazaar this year include Tibetan art featuring traditional rugs, singing bowls and ritual objects; ornamental ceramic pottery and copper items from Maharashtra; elaborate wood carvings, paintings and baskets from Arunachal Pradesh; bamboo baskets from Jharkhand; contemporary block prints from Rajasthan and ethnic silver jewellery from Orissa. - IANS