Government urged to pass good samaritan law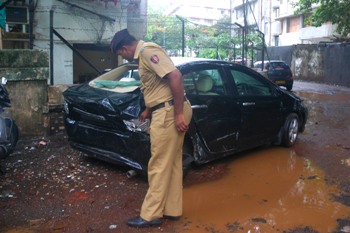 NGO Save Life Foundation Monday urged the government to pass the good samaritan law to create a legal atmosphere for bystanders and passers-by to come to the aid of injured persons during accidents.
According to several surveys three out of four people in India are unlikely to step forward to help an injured person on the road.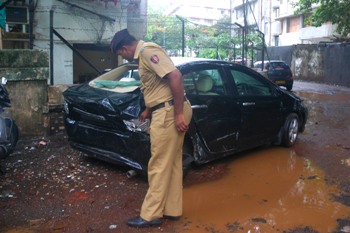 A policeman inspecting a car in Mumbai that was involved in an accident killing a 74-year-old man (File Photo: Indian Photo Agency)
Also Delhi residents are most unlikely to step forward to help an injured person.
"The thought behind the good samaritan bill is to encourage bystanders to become good samaritans, and take away the problems that discourage them," Kirron Kher, BJP leader and member of parliament, said at a conference here.
She said that the objective of the bill is to ensure that ordinary people, who help injured persons, do not face harassment and intimidation.
"We want to encourage more people to come forward and help the injured," she said.
A petition signed by 85,000 people supporting the good samaritan law was presented to health minister J.P. Nadda.
Piyush Tewari, founder, Save Life Foundation, said: "Rapid emergency care including assistance from bystanders can save over 70,000 lives every year. It is essential that a supportive legal environment is created for bystanders and passers-by to assist injured persons." - IANS