India improves on corruption index front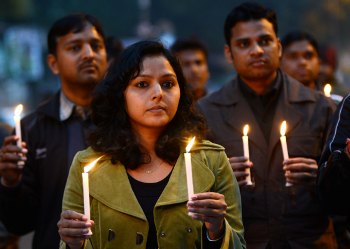 India Wednesday improved its rank in the global anti-corruption body Transparency International's Corruption Perceptions Index 2014, coming 85th out of 175 countries and territories.
The index ranks countries and territories based on how corrupt their public sector is perceived to be, and the country or territory's score indicates the perceived level of public sector corruption on a scale of 0 (highly corrupt) to 100 (very clean), according to the Transparency International website.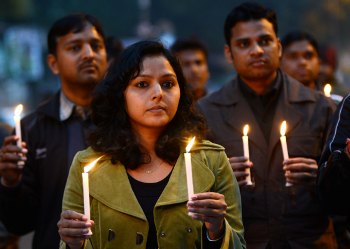 A file photo of a candlelight vigil by students to protest against corruption in the Union Public Service Commission (Photo: Indian Photo Agency)
India was given a score of 38 in the index, which has been a slight improvement over its scores of 36, both in 2013 and 2012.
Denmark topped the list as the least corrupt country scoring 92, followed by New Zealand (91) and Finland (89).
Corruption is a problem for all economies, requiring leading financial centres in the European Union (EU) and the US to act together with fast-growing economies to stop the corrupt from getting away, Transparency International said.
Among India's immediate neighbours, Bhutan was ranked the highest at 30, with a score of 65.
Sri Lanka was also ranked 85th, along with India, while Nepal and Pakistan jointly occupied the 126th position. Bangladesh, on the other hand, was placed at 145.
China was ranked 100th and its score fell to 36 in 2014 from 40 in 2013, in spite of the fact that the Chinese government launched an anti-corruption campaign targeting corrupt public officials.
The score matches a poor performance by Chinese companies in Transparency International's recent report on corporate disclosure practices, where all eight Chinese companies scored less than three out of 10.
Corruption and money laundering are problems also for the other BRIC countries. This year has seen questions raised related to a major oil company using secret companies to bribe politicians in Brazil, questions about Indians using bank accounts in Mauritius and Russians doing the same in Cyprus.
The Corruption Perceptions Index is based on expert opinion on public sector corruption.
"Grand corruption in big economies not only blocks basic human rights for the poorest, but also creates governance problems and instability. Fast-growing economies whose governments refuse to be transparent and tolerate corruption, create a culture of impunity in which corruption thrives," said Jose Ugaz, the chairperson of Transparency International. - IANS