Opulence, Sufi music to ring in Mulayam's 75 years
Mohit Dubey
&nbsp | &nbspLucknow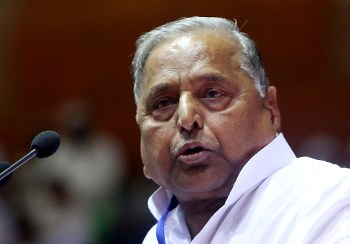 A mammoth special fresh fruit cake, a Victorian era buggy flown in from London, flowers from the Netherlands, and Sufi music by the Sabri brothers are set to ring in style the 75th birthday of Samajwadi Party chief Mulayam Singh Yadav Saturday.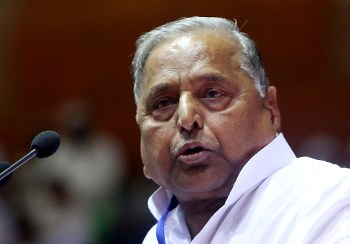 Mulayam's 75th birthday party is turning out into an opulent show (Photo: Indian Photo Agency)
Urban Development Minister Azam Khan will play host to one of the biggest such gatherings in Rampur, beginning with a buggy (horse cart) ride for Mulayam Singh and his son, Chief Minister Akhilesh Yadav.
Hitherto known for his simple ways - most of his birthdays have been celebrated with 'kavi sammelans' (poetry recitation session) at night - this birthday marks a departure for its opulence for one who swears by socialism.
Mulayam Singh was born Nov 22, 1939.
While Azam Khan is rolling out the red carpet for Mulayam Singh for 75 years of "a great life", some see it as a return gift to the former chief minister who nominated Khan's wife to the Rajya Sabha.
Having criticised Mulayam Singh in the past for his proximity to film stars and a grand lifestyle, Azam Khan is seemingly repeating the same for his old friend.
While the Samajwadi Party will distribute blankets to the poor and conduct a mass marriage in Gorakhpur, the centre of all activity is going to be Rampur.
That is where scores of bureaucrats, officials and policemen are making their presence felt.
Mulayam Singh is clearly excited over the birthday bash at Rampur.
He told IANS that Azam Khan was "working very hard" to make the event a grand success.
"I will fly down to Rampur Friday evening and will come back late Saturday," he added.
Meanwhile, Rampur, about 320 km from Lucknow, has been decked up with flowers. All major buildings in the city are being lit up and decorated.
Over 300 welcome arches have been put up in the city on the route Mulayam Singh and Akhilesh Yadav would take on the Victorian buggy from the helipad to the Jauhar Muslim University, a few kilometres away.
The distance is expected to be covered in more than four hours as crowds will throng both sides and shower flower petals on Netaji.
The programme is set to burn a hole in the state coffers. An official told IANS that the district administration and the culture department were spending about Rs.30 lakh on the grand affair.
This includes Rs.5 lakh to be paid to the Sabri brothers and Rs.11 lakh to singer Hans Raj Hans.
Light Emitting Diode (LED) screens costing Rs.45 lakh are being put up across Rampur for live viewing of the event.
Many old friends of Mulayam Singh are coming over from Saifai, the Samajwadi leader's ancestral village. - IANS