Sri Lanka approaches Aussie Univ. to withdraw book on war crimes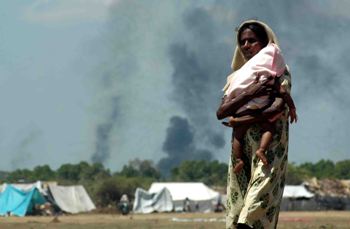 The Sri Lankan High Commission in Australia has privately tried to get Melbourne's Monash University to withdraw its support for a new book about Sri Lankan Government war crimes, the Australia based Tamil Refugee Council (TRC) stated in a press release.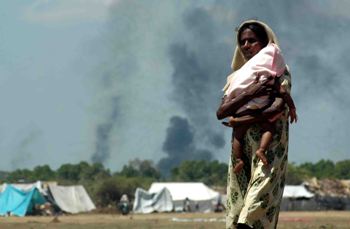 A photo from Trevor Grant's book shows a Tamil woman desperately seeking shelter for her child (Photo Courtesy: Monash University Publishing)
Monash University Publishing published the book, "Sri Lanka's Secrets: How the Rajapaksa Regime Gets Away with Murder", by Australian journalist, Trevor Grant, which was released in August.
TRC claimed that at two meetings with senior university administrators, including vice--‐chancellor, Professor Margaret Gardner, the Sri Lankan High Commissioner, Admiral Thirasa Samarasinghe, questioned the university's selection and approval processes for the book.
"He also wanted it to issue some form of apology for allowing it to be published. The University's links with Monash College in Colombo, a pathway school to Monash campuses in Australia, was believed to have been brought up in the discussions," the release said.
The director of Monash University Publishing, Dr Nathan Hollier, has reportedly confirmed that Samarasinghe had two meetings with senior university administrators, including the vice - chancellor, Professor Margaret Gardner, in September.
According to TRC, Dr Hollier said, "Admiral Samarasinghe wrote to Monash University about the book on 27 August. The letter contained a request to meet with the vice--‐chancellor.
"Professor Abid Khan, the deputy vice--‐chancellor, wrote an official response and then met with Admiral Samarasinghe and the Sri Lankan consul-general for Victoria on September 8. These two representatives also met with the vice- chancellor on September 26."
TRC said, "Professor Khan's letter is believed to have rejected Samarasinghe's attempt at censorship, saying that authors were free to publish their work through Monash University Publishing without fear from institutional discipline.

"It also reiterated that the publishing arm was an autonomous part of the university and that its publications don't represent an official view from the university."
Samarasinghe reportedly rejected an offer to write a response to the book on the university website, pointing out any errors of fact or interpretation. It was to include a response from the author of equal length.
"We deplore this intervention from the Sri Lankan Government, which is clearly an attempt to subvert the right to freedom of expression, something that does not exist in Sri Lanka. We are pleased that Monash has stood firm in the face of this coercion," said Tamil Refugee Council convenor, Aran Mylvaganam. – TWL Bureau