Chandhok sees bright future for Formula E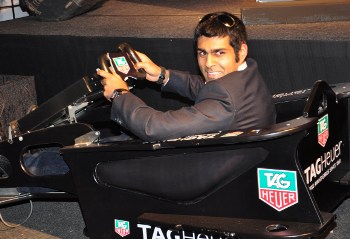 Racing driver Karun Chandhok believes that Formula E is here to stay and asserted that the electrically-powered series, which was launched in September, is not in direct competition with any other championship.
Formula E is a form of auto racing which uses one-make, single-seater, electrically-powered racing cars. The series was conceived in 2012, and the inaugural championship started in Beijing Sep 13.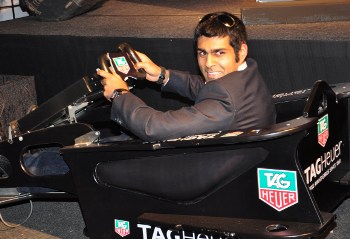 Chandhok and Brazilian Bruno Senna represent Mahindra Racing team in the Formula E championship (Photo: Indian Photo Agency)
Chandhok, who drives for Mahindra Racing in Formula E, Monday said that the championship is a harbinger of a new era in motor racing while spawning a new generation sensitive to environmental issues.
"Formula E is a double whammy. It is about marketing a new product and engineering. Everything is built to costs and transferring the technology to road cars. The championship will definitely evolve over a period of time," said the 30-year-old.
"At the moment all cars are the same and teams are only allowed to tweak the settings, suspension etc. But in the next few years, the teams will enjoy more flexibility, but in phases. The new championship will also see spawning of a new racing culture among the young who are more sensitive to environmental issues."
Chandhok, along with Brazilian Bruno Senna, forms a two-man Mahindra Racing team in the Formula E championship.
When asked about his transition from Formula 1 to Formula E, Chandhok admitted that the difference between the series was like chalk and cheese, but the two were no different in competition.
"Let me make it clear that Formula E is not in competition with Formula 1 which continues to be the pinnacle of motor racing, not any other championship," said the former Formula 1 driver.
On the experience of the "silent" Formula E car, he said: "You don't hear anything when you start the engine and drive. It's a bit confusing, but you will get used to it. Once you get on to the track, you try to drive as efficiently as possible as your racing instincts take over.
"I found it challenging and fascinating besides mentally stimulating because there is no live telemetry and hence you are on your own. It is a huge mental challenge." - IANS