Kejriwal woos youth, promises 800,000 jobs, WiFi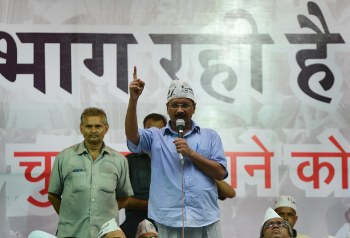 AAP chief Arvind Kejriwal Saturday launched the party's Delhi Dialogue campaign and wooed the national capital's youth by promising 800,000 jobs, vocational training, stadia, new colleges and WiFi across the city.
Delhi is headed for elections after the assembly was dissolved earlier this month. The polls are likely to be held early next year.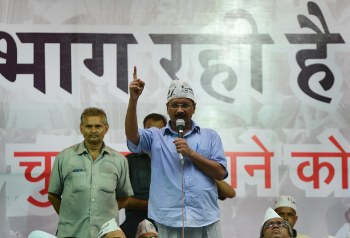 Kejriwal has vowed to make Delhi a drug-free city (Photo: Indian Photo Agency)
Addressing a gathering of around 5,000 people at Jantar Mantar in the heart of the capital, the former Delhi chief minister said that if voted to power, the Aam Aadmi Party "would create eight lakh jobs and train 10 lakh youth in the next five years".
The AAP convener also promised to better the sports infrastructure by building stadia in the city.
"I had gone to a village (in Delhi) where there was no stadium. The villagers said they had land but no stadium. I asked them to give us land so that it can be turned into stadia," he said.
He said all sports grounds in government schools would be opened to budding sportspersons for training.
Kejriwal also announced a loan scheme for students passing out from Delhi's schools and wanting to pursue diploma or degree courses. He said no student would be denied a loan.
The AAP leader also promised to open 20 new colleges on the outskirts of the capital in partnership with villages.
He also said the AAP would make Delhi a drug-free city.
"Whatever we promised before coming to power, we fulfilled them in just 49 days. And whatever promises we have made today, we will fulfill them also," he said.
The two-year-old Aam Aadmi Party had stunned the nation by forming the government in Delhi last December with the backing of eight Congress legislators. Kejriwal, however, quit as chief minister after failing to introduce the Jan Lokpal bill in the assembly. - IANS