Sri Lanka's rogue regime under the scanner of Malaysian MPs
A Correspondent
&nbsp | &nbspKuala Lumpur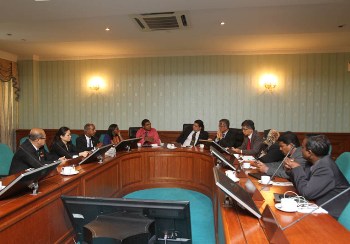 The Malaysian Parliamentary Caucus on Human Rights in Sri Lanka, which met at the Malaysian Parliament early this week to take stock of the progress of the human rights situation in Sri Lanka and the condition of Sri Lankan Tamil refugees in Malaysia resolved to meet the Sri Lankan High Commissioner to discuss the Tamil issue and the treatment of Muslims in the country.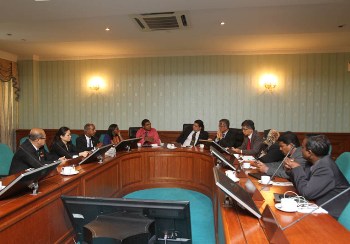 The meeting discussed wide-ranging issues pertaining to the Tamils and Muslims in Sri Lanka (Photo: By Special Arrangement)
It may be noted that in 2013 Malaysia abstained from voting at the 22nd UN human rights council as a result of pressure from this caucus. The caucus had also called for a boycott of the Commonwealth Heads of Government held in Sri Lanka.
The recent meeting was held in the background of the visit of well-known academic and Sri Lanka expert Dr. Paul Newman from India. The situation of Tamils in the North and East of Sri Lanka was discussed at the meeting in light of the ongoing UN International Inquiry on War Crimes of the Sri Lanka regime.
Wide ranging issues including the recent boycott and attacks on Muslim vendors selling Halal meat were also discussed.
The Caucus condemned Sri Lanka for not allowing the UN Investigators into Sri Lanka, thereby not complying with its obligation to the UN.
They also condemned the travel ban on foreigners to the Tamil majority province of North Sri Lanka, which it was felt only proved that Sri Lanka had something to hide from the outside world.
The MPs expressed concern on the issue of land grab by the Sri Lankan State in Tamil areas, the rise of the chauvinist Bodu Bala Sena which has openly advocated attacking the Muslims, and the trampling of human rights and media freedom in the country.
The Caucus urged the Government of Sri Lanka to repeal the draconian Prevention of Terrorism Act as the civil war was declared over in 2009 itself and called for restoration of a complete civilian administration in the North and East.
The meeting reiterated that process of demilitarization in Tamil areas be expedited, and the promotion of Buddhism in the Tamil and Muslim dominated areas should be stopped at all cost in order to exude confidence in the civil society.
While welcoming the infrastructure development in the North and East, members said it was not a substitute for restoration of rights to the people.
The problem of the estimated 7000 Sri Lankan Tamil refugees in Malaysia was taken up as some of them have been living in the country for over sixteen years without proper papers. Though they speak Malay and hold UNHCR cards, their plight in Malaysia is deplorable as they face severe harassment by their employers and the authorities apart from living in abysmal conditions.
Senior leader of the opposition Y B Kulasegaran urged the caucus to press Malaysia to sign the UN Convention on Refugees.