Wigneswaran blasts SL institutions for their anti-Tamil stance
Sri Lanka's Northern Province Chief Minister C V Wigneswaran squarely blamed the country's judiciary and legislature for the rise of Tamil militancy and said the judiciary "played a major role in foisting a second-class citizenship on the Tamil speaking peoples."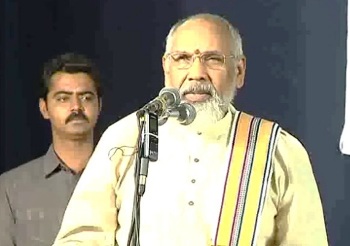 C V Wigneswaran picked on the Sri Lankan judiciary and legislature for their anti-Tamil stance
Delivering the K G Kannabiran Memorial Lecture in Chennai on Sunday, the Tamil leader belonging to the Tamil National Alliance, who is a former Supreme Court judge himself, cited a book by three non-Tamil Sri Lankan lawyers to support his assertion that the judiciary had shown a 'systemic bias against minorities.'
He said a book by Dr. de Almeida Guneratne, Kishali Pinto Jayawardena and Gehan Gunatilleke, 'The Judicial Mind in Sri Lanka – Responding to the Protection of Minority Rights' describes "how the judiciary as an institution failed the minorities in not only National Security cases but in relation to the language rights, land and housing rights and religious rights."
He said the book "authored by non-Tamils concludes that the rise of Tamil militancy in Sri Lanka cannot be divorced from institutional failure, including that of the judiciary, to address genuine grievances, because, barring a few exceptions, the judiciary's treatment of minorities was fundamentally different to the general dispensation on the issue."
Mentioning the judiciary's role in public security related cases, he said from 1947 to 1979 the court did not appear to be racially biased but was conservative.
However, he went on to add that from 1979 to 2009 (until the conclusion of the war) the court was inconsistent in its findings "but what is disturbing is that while the progressive cases were invariably those where majority community members were involved, the regressive and oppressive decisions tended to be where minority community members were involved."
Wigneswaran also listed the regressive and oppressive measures against the Tamils through the legislature.
He said the 1972 Constitution, "made the Tamil speaking citizens of North and East of Sri Lanka second class citizens overnight, (and) unilaterally abrogated the post independent pacts entered into by the elected Tamil Leadership with the majority community Prime Ministers to resolve the ethnic conflict such as the Bandaranaike – Chelvanayagam Pact of 1957 for Regional Councils in the North and East and then Dudley Senanayake-Chelvanayagam Pact of 1967 for devolution."
He added that the (1972) Constitution "institutionalised structures of discrimination which resulted in the denial of right to land, right to education and rights to development and resulting disillusionment and disenchantment and frustration of the Tamil youth and made the Tamil leadership (against the backdrop of Sinhalisation of the governance structures in Sri Lanka to the detriment of the Tamils) unable to secure an equitable and sustainable political settlement via democratic means." - TWL Bureau