Exclusive: Kaththi critic IAS officer speaks out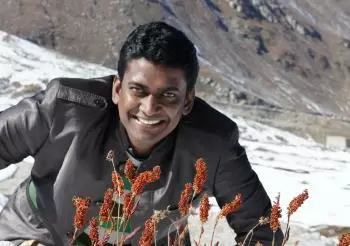 If Tamil groups are peeved with actor Vijay's latest flick 'Kaththi' because of its producer's alleged links with Sri Lankan President Mahinda Rajapaksa's family, a Chhattisgarh based Tamil IAS officer Alex Paul Menon has lashed out against the movie for its superficial delivery of a heavy subject that requires deeper understanding.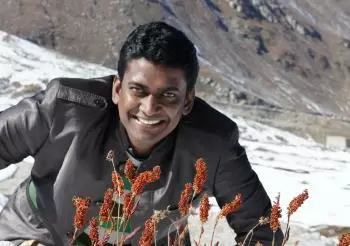 IAS officer Alex Paul Menon urges Tamil society not to get carried away by film punch dialogues
With an overdose of masala that is usually expected of a Vijay film, Kaththi tells the story of a multinational soft drink major depriving farmers of their livelihood by sucking water and driving them to debt and death.

Vijay who plays a double role in the film is trying to save his village from being exploited by the powerful cola company.

The theme may have appealed to emotions but Menon states in his blog, "There is no element of social responsibility and expecting it from Tamil cinema artistes, who know the magic of milking money by `sensory branding', is like asking for chemotherapy for cancerous cyst from a person selling chittukuruvi legiyam (a local aphrodisiac)."

A water management expert, he says the first and foremost foe of Tamils is their ignorance on water conservation.

Cola or any other MNC is only petty enemy, contends Menon who hit the headlines after he was abducted by Maoists in 2012 and released later.

Not that he supports the exploitation of domestic and multi-national firms.

"Punch dialogues are not going to change your life. Don't waste your time and money on paperboard knives (kaththi), instead sharpen your blunt brain.

"Create Hiware Bazars (a Maharashtra village which fought drought and put in place a successful water conservation programme after its only postgraduate Popatrao Baguji Pawar was elected panchayat president) all over Tamil Nadu.

"People's leaders are hidden among you in every panchayat. Don't look for them on screens," he writes hitting the nail on the head of the Tamil society which is known to deifying movie stars and giving them political power.

Ask him what made him pour out his feelings in such strong terms, and Menon tells The Weekend Leader, "Sheer anger, anger against the ignorance of my fellow Tamils."

A movie buff, he could not watch Kaththi for even half an hour. "Water activists are everywhere in India addressing conservation necessities. From what I have seen and read, the film demeans their work and attempts to divert attention."

With Vijay nurturing political ambitions, is there a political message running in the blog piece? "May be, there is. Any party should be a bottom-up party and not top-down. And, don't search for messiahs outside (in the cine world)," he chuckles.