Children cross a pond to attend a school in Rajasthan
Anil Sharma
&nbsp | &nbspPali (Rajasthan)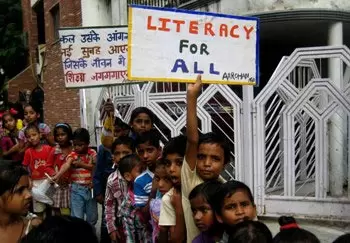 This one's difficult to believe: risking their lives, children in a Rajasthan village have to cross a pond every day to attend a government school.
"We have got around 175 children in our school which is till class 8. Of them, 35-40 have to pass through a pond to reach the school as there is no bridge over it. The only way is through the pond," Jairam Phulwaria, headmaster of the Jheetra Upper Primary School in Pali district, over 200 km from state capital Jaipur, told IANS.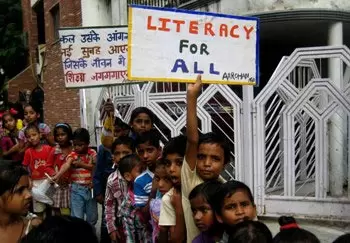 In spite of the challenges, the school registers a high attendance of almost 70-80 percent and the dropout rate is one of the lowest in the state (Photo: Indian Photo Agency - for representational purpose only)
These children come from villages like Ladu Ji Ka Badia, Mangla Ji Ka Badiya, Vypari Ji Ka Badia and Kachar Bala, among others.
"We, the school staff, try to see off the kids after school is over as they have the arduous task of passing through the pond, where the water level is presently 2.5 feet," Phulwaria added.
"The pond is also known as Jhilmil Bandh. In the rainy season, the water level rises to 15 feet so these children are usually absent and their studies suffer as at times, the water takes months to recede," Phulwaria said.
"I can't sit at home and not be educated just because I am scared to cross a pond," Kalu Kathat, a class 6 student, told IANS.
Echoing similar views, Allah Noor, also in class 6, said he does not like rainy season as it prevents him from going to school.
"We manage to cross over to the other side but the problem is sometimes our bags and clothes get wet and the books are soiled. But that does not deter us from attending school," Noor said.
Phulwaria, credits the villagers for being so aware and sensitive to their children's education.
"They are very encouraging. It is because of them that there's a high attendance of almost 70-80 percent and the dropout rate is one of the lowest in the state." - IANS