Yamaha to start operations at Chennai plant in November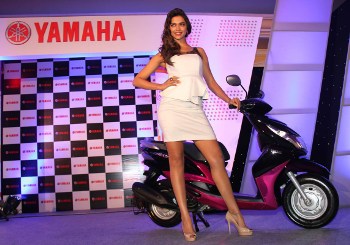 Japanese automobile group Yamaha would start operations at its plant near here next month with commercial production expected to start early 2015, said a senior official Wednesday.
Yamaha hopes to double its two-wheeler market share in India to 10 percent in a couple of year's time, the official said.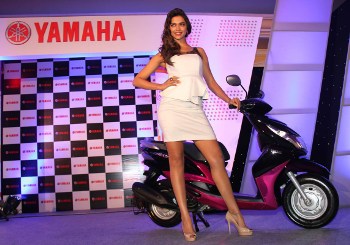 A file photo of Bollywood actress Deepika Padukone posing for Yamaha scooter as its brand ambassador (Photo: Indian Photo Agency)
"We will be rolling out scooters first from the plant," Asano Masaki, CEO and managing director, Yamaha Motor India Sales Pvt Ltd, told reporters on the sidelines of a company function.
The company is the marketing and sales arm of Yamaha in India while vehicle production comes under India Yamaha Motor.
According to Masaki, the new plant will have an annual production capacity of 400,000-440,000 vehicles taking the total two-wheeler production capacity of Yamaha in India to around 1.4 million units. Yamaha's other plant is at Surajpur in Uttar Pradesh.
For the current calendar year, the company is targeting to sell 600,000 units in the domestic market and export around 200,000 units.
Queried about the excess capacity, vice-president Roy Kurian said: "The two-wheeler industry is growing. We are also expanding our distribution network. We will need the fresh capacity."
Meanwhile, the company plans to increase the number of Yamaha Training Academies by four to 10 units.
"We are training youngsters in two-wheeler mechanics and most of them are absorbed at our dealer-end," Ravinder Singh, vice president-strategy planning said.
The company felicitated Meenakshi Sundaram Subramanian, a mechanic in one of its dealer outlets, who stood first in the Yamaha World Technician Grand Prix 2014 held in Japan recently.
According to Singh, 20 mechanics from 18 countries participated in the event to test the expertise of mechanics and India's Subramanian scored top marks. - IANS