Cheapest solar powered eToilet for schools unveiled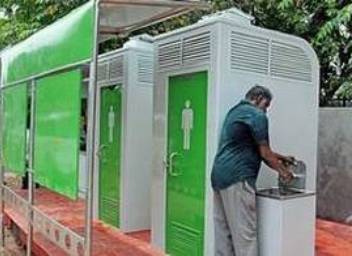 Eram Scientific, manufacturers of the country's first eToilet, here Tuesday unveiled the world's cheapest unmanned, self-cleaning eToilet with inbuilt solar panel and metallic platform for schools.
"This is our contribution to the nation and comes as a response to the "Clean India Campaign" announced by the central government. It perfectly matches with the "Make in India" campaign as well," said Siddeek Ahmed, chairman of Eram Group based here.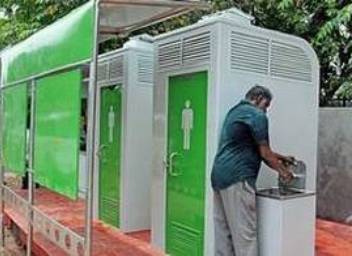 The toilet come with an automatic flush which works before and after use, and automatic floor wash (Photo: IANS)
Built of stainless steel base, mild steel super structure and occupying 25 sq.ft space, the eToilet comes with a price-tag of Rs.99,999 ex-factory, which is inclusive of insurance charges and one-year warranty.
It has got an inbuilt solar panel which eliminates the need for electricity connection while the metal platform avoids civil construction too.
It has an automatic flush which works before and after use, automatic floor wash, sensor controlled water usage and eliminates the need for manual cleaners in schools.
"The present problems in sanitations at schools are known to be not because of the dearth of toilets. The lack of maintenance and requirement for manual cleaning has made them dysfunctional. We are out to address that gap and that is why we are now launching this comprehensive solution for schools," said K. Anvar Sadath, CEO.
Eram Scientific has deployed over 600 eToilets -- each costing Rs.two lakh and upwards -- in 11 states.
Sadath said the one designed for schools is cheap because the complex electronics have been avoided and customised for school use.
"We have got numerous queries from all parts of the country for the school model and we envisage a minimum sales of 6,000 units this fiscal," he added. - IANS