2G trial: Order on charges of money laundering Oct 20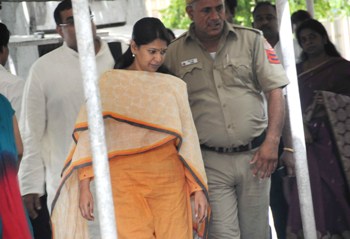 A court here Monday set Oct 20 for delivering its order on framing of charges in the money laundering case related to 2G spectrum allocation matters against former telecom minister A. Raja, DMK MP Kanimozhi and other accused.
Central Bureau of Investigation Special Judge O.P. Saini reserved his order on framing of charges in the case, saying he will announce it on Oct 20 after defence counsel and investigation concluded arguments.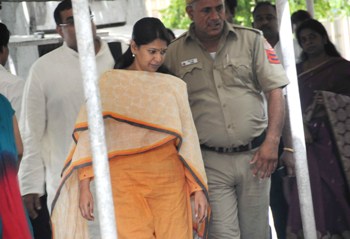 File photo of Kanimozhi leaving Patiala House court after she was sent to judicial custody in connection with 2G spectrum case in 2011 (Photo: Indian Photo Agency)
Kanimozhi with Raja, Swan telecom promoters Shahid Usman Balwa and Vinod Goenka, Kusegaon Fruits and Vegetables Pvt. Ltd. (KFVPL) directors Asif Balwa and Rajiv Agarwal, Bollywood producer Karim Morani, DMK chief M. Karunanidhi's wife Dayalu Ammal, Kalaignar TV director Sharad Kumar and P. Amirthan were charge sheeted by the Enforcement Directorate in the case.
The companies named in the case are Swan Telecom Pvt. Ltd. (STPL), Kusegaon Realty Pvt. Ltd., Cineyug Media and Entertainment Pvt. Ltd. (Cineyug Films), Kalaignar TV (KTV) Pvt. Ltd., Dynamix Realty, Eversmile Construction Company Private Limited, Conwood Construction and Developers (P) Ltd., DB Realty Ltd. and Nihar Construction Pvt. Ltd.
The accused have been booked under various sections dealing with the Prevention of Money Laundering Act (PMLA).
"The investigation revealed that amount of Rs.200 crore was paid by promoters of STPL, using their group entity Dynamix Realty, to KTV, through KFVPL and CFPL (Cineyug Films) in the garb of legitimate financial transaction, that is as loan/share application money," the ED said in the charge sheet.
The payment was illegal gratification for and on behalf of Raja and his associates in lieu of illegal favours given to the STPL for grant of UAS licence, it has been contended. - IANS