Special: Lyca network and Rajapaksa connections

P C Vinoj Kumar
&nbsp | &nbspChennai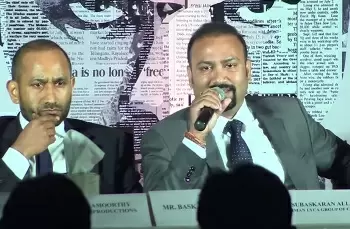 The UK based producers of the upcoming Vijay starrer Kaththi flew into Chennai early this week to meet the media and respond to allegations that they had links with Sri Lankan President Mahinda Rajapaksa's family members.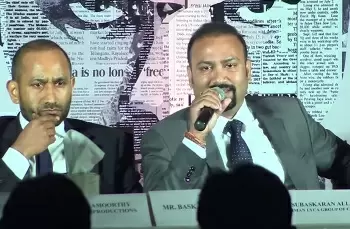 Subaskaran Allirajah addressing the media in Chennai
Lyca Productions, which is producing the film is part of the UK based Lyca Mobile group, owned by a Sri Lankan Tamil and business tycoon, Subaskaran Allirajah. The group had earlier produced a Tamil movie, 'Pirivom Sandhippom' under the banner of Gnanam Productions.

Tamil groups have been protesting against the movie after allegations of Subaskaran's proximity to the ruling family in Sri Lanka emerged.

While remaining in UK, Subasakaran continues to maintain links with his homeland.

His Lyca Mobile was the Gold Sponsor at the Colombo Commonwealth Business Forum in 2013, and his non-profit Gnanam Foundation does charity work in North Sri Lanka.

It had also been alleged in the Sri Lankan media that Lyca held 95 percent share in a company registered with Rajapaksa's nephew Himal Hettiarachchi.

The Sunday Leader, whose editor Lasantha Wickrematunge was shot dead in January 2009, had carried a report by Ranjith Jayasundera headlined "The Rajapakse 'connection' and a multimillion dollar deal" in its issue dated February 24, 2008.

It published the board memo (dated 21 January 2008) of the government owned Sri Lanka Telecom (SLT) that purportedly related to a proposed joint venture with Sky Network.

If one were to go by the document (Board Paper PLC/T/65/2007), it seems that Lyca Group had held 95 percent stakes in Sky Network, where Rajapaksa's sister's son Himal Hettiarachchi was one of the board members.

Two Lyca officials Milind Kangle (then CEO of Lyca Mobile UK) and Christopher Tooley (Lyca's current CEO) were the other two board members of Sky Network.

It is not known how the Sri Lankan government or Lyca responded to the article.

Reproduced below is the text of the document as published in The Sunday Leader:
29th June 2007
Board Paper PLC/T/65/2007

Equity Acquisition of Sky Network (Pvt) Ltd - WiMaX frequency owned company

1. Introduction

SLT has done field trials on WiMax Services and is awaiting frequency allocation to launch WiMax services in Sri Lanka which is a wireless broadband solution. SLT has already applied for the WiMax frequency from the Telecommunication Regulatory Commission of Sri Lanka (TRCSL) but despite repeated reminders there has still been no progress to obtain these frequencies. Dialog Broadband and Suntel already own frequencies and they have already rolled out their WiMax networks ready for service offering. The time to market and first mover advantage is very critical in this business as well and SLT will lag behind with the delays and SLT will become another follower in the market. Similar experiences have been there in the past too.

Lyca Group in UK which is a virtual operator in UK has approached SLT for business through its 95% owned subsidiary Sky Network, which has been given WiMax frequency to operate islandwide. SLT is considering an acquisition strategy as an option. In response to initial inquiry to go forward with partnership with equity acquisition of this company to launch WiMax services was positively responded. It is also, possible to leverage cost advantage and operational efficiency through such arrangements.

2. About Sky Network

(i) Name: Sky Network (Pvt) Limited

(ii) Company registration number: N(PVS) 46122

(iii) Share Holding:

95% Hastings Trading E Services - Portugal (subsidiary of Lyca Group)
5%, Himal Laleendra Hettiarachchi

(iv) Board Members
1. Milind Kangle (Chairman) - CEO of Lyca Mobile UK Ltd
2. Christopher Tooley
3. Himal Laleendra Hettiarachchi

WiMax Frequency
1. 2400-2430 MHz (Islandwide)
2. 5470-5850 MHz (Selected urban towns around Colombo)
3. 3500 MHz band to be reserved on exclusive basis upon submission of business plan

3. Recommendations
Board approval is sought to carry out a Valuation and Due Diligence on Sky Network (Pvt) Limited with a view of equity acquisition and by retaining Certified Public Accountants Ernst & Young for this purpose.

Shoji Takahashi P. N. E. Abayasekara
Chief Executive Officer Chief Corporate Officer
However, at the press conference in Chennai on September 16, Subaskaran denied any links with the Sri Lankan president while suo motu responding to charges that the film was funded by the latter.

He said, "My 2 days income is sufficient to make this film."

It is unlikely that he was lying about his income. Subaskaran figured in The Sunday Times (UK) Rich List 2013, which estimated his worth to be £ 180 million.

A UK community newspaper, the Guardian Series carried an article in 2012 about his alleged attempt to pull down a house he had bought in Stradbroke Drive, Chigwell and the opposition from residents in the area to his plans to build a "nine-bedroom mansion complete with cinema, swimming pool and prayer room" in its place.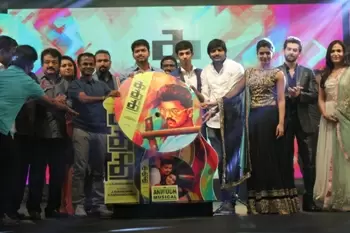 Kaththi Audio release function in Chennai
The report described him as "one of the world's richest men."

An article published in the website UK, Finance (Yahoo) in 2013, observed, that his "company's only been going seven years and yet boasted a £120 million turnover in the UK in 2012, and estimated £1 billion as a group."

It went on to describe the company as "the world's largest mobile phone virtual network (MNVO), a type of company that leases radio frequency from mobile phone network operators and forms partnerships with the operators in each country it serves."

In 2013, Lyca sponsored a charity walk in Sri Lanka by former English cricketer Ian Botham. The cricketer walked 160 miles across Sri Lanka and reportedly raised $210,000 for Foundation of Goodness, an NGO in Sri Lanka, and other international projects.

Lyca CEO Chris Tooley had accompanied Botham during part of the walk. Chris was also reportedly seen running together with President Rajapaksa's son, which further fuelled speculations of Lyca's links with the Rajapaksa family.

So how is Foundation of Goodness connected with Rajapaksa?

Foundation of Goodness was founded by one Kushil Gunasekara and the NGO had been active in South Sri Lanka, in Sinhalese dominated areas.

But after cricketer Muralidharan, a well-known acolyte of Rajapaksa became one of its trustees, it also started working in the war-torn areas of North Sri Lanka, with the full blessings of the president.

It was on the basis of Muralidharan's appeal that Rajapaksa allotted a 50-acre plot of land in Mankulam in North Sri Lanka to Foundation of Goodness. Lyca might claim that it is supporting an NGO, but this is how special this NGO is to Rajapaksa.

One of the questions posed to Subaskaran at the press meet in Chennai was how he has been able to get free access to the Northern region for his Gnanam Foundation, while this privilege has been denied to even foreign dignitaries and other NGOs.

He said the Sri Lankan government knew they had no political motive and so they had been allowed. As it was pointed out to him, even International Red Cross had been denied entry into the troubled North Sri Lanka.
Apparently, the Lyca network is pretty strong!