Hearty and cheerful Lalu walks out of Mumbai hospital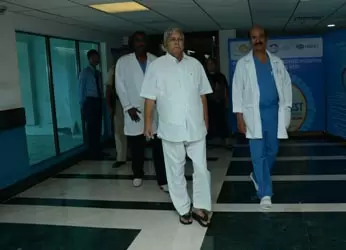 Eighteen days after undergoing three cardiac surgeries, a hearty and cheerful RJD chief Lalu Prasad Saturday walked out of the Asian Heart Institute here, doctors said.
"Lalu Prasad has been an excellent and cooperative patient with a strong willpower which has helped him immensely in his speedy recovery," said Ramakanta Panda, the hospital's vice chairman and MD, who is also a renowned heart surgeon.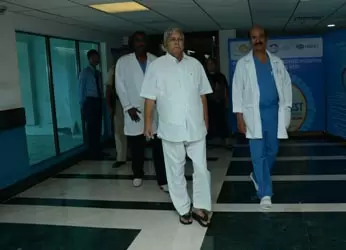 Lalu Prasad with doctors Ramakanta Panda and Vijay D'Silva at the time of his discharge (Photo: IANS)
Normally, in such cases (with triple heart surgeries), the medical authorities start cardiac rehabilitation after 15 days of surgery, but considering Lalu Prasad's stable condition, it was started nine days after the operations, he said.
The former Bihar chief minister will remain temporarily on blood thinning medication for the next around 10 weeks with a simple and less oily diet.
He will also be required to continue with his regime of exercises for the next fortnight.
"Lalu-ji had come to us for heart treatment, but eventually, he captured all our hearts with his positive attitude and happy-go-lucky nature," said the hospital's medical director Vijay D'Silva while seeing off the RJD leader.
Discussing his medical condition, D'Silva said all his vital parameters were within normal range and his post-operative recovery went smoothly.
The hospital's cardiac rehabilitation chief Nilesh Gautam said Lalu Prasad was doing regular cardiac rehab exercises since the surgery with a dramatic increase in his exercise capacity.
"He regularly did bicycle exercises, walked the treadmill for 8-10 minutes continuously twice daily, all with a very positive frame of mind," Gautam said.
The Rashtriya Janata Dal chief was admitted Aug 25 for heart-related ailments.
On Aug 27, heart surgeon and hospital chief Panda and his team performed three heart surgeries on him for over six hours.
The surgeries were for an aortic valve replacement, an aortic repair and sealing a three-mm hole in the heart.
Leaders from various political parties called on Lalu Prasad during his stay in the hospital.
He is likely to bounce back to normal action over the next few weeks, the medicos said. - IANS