Samajwadi Party not taking Mainpuri for granted
Mohit Dubey
&nbsp | &nbspMainpuri (Uttar Pradesh)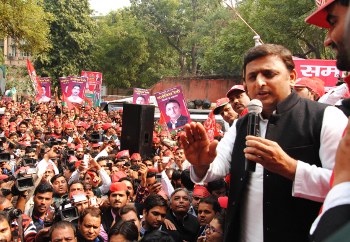 There was a time when Mulayam Singh Yadav would never campaign here - and yet comfortably get elected. But this time, the Samajwadi Party strongman is campaigning very hard - because he can't afford to see his candidate defeated.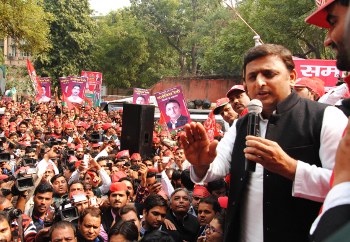 The entire family of the SP chief, including Chief Minister Akhilesh Yadav (in pic), is campaigning hard for the victory of party candidate (File Photo: Indian Photo Agency)
Is Mainpuri, the long-time citadel of Uttar Pradesh's first family, finally cracking? While there are no clear answers, there are pointers as the Lok Sabha constituency prepares to vote Saturday.
While Mulayam Singh Yadav has won from here thrice, his nephew Dharmendra Yadav has won the seat twice.
But there is visible disappointment among some people here that Mulayam Singh Yadav chose to retain the Azamgarh seat over Mainpuri after getting elected to the Lok Sabha from both places.
Any disenchantment among the Yadavs can prove to be fatal for Samajwadi Party candidate Tej Pratap Singh, a grandnephew of Mulayam Singh Yadav.
No wonder, the entire family of the party chief is campaigning hard for the entry of its youngest into politics. It is probably for the first time that the party is taking no chances in Mainpuri.
Mulayam Singh Yadav has spent three days addressing election rallies. His brother and PWD Minister Shivpal Singh Yadav is camping here.
Pawan Yadav, who runs a chemist shop on Kachehri Road, says he has always voted for Mulayam Singh Yadav but was having second thoughts this time.
"We have always stood by Mulayam Singh. But by choosing Azamgarh over Mainpuri he has shown that he sees us as mere voters," the man told IANS. "All this talk about his attachment to Mainpuri is just hogwash."
Even Uttar Pradesh Chief Minister Akhilesh Yadav, the son of Mulayam Singh Yadav, has addressed a few rallies here.
His wife and MP from neighbouring Kannauj, Dimple Yadav joined the campaign on the last day Thursday.
Though the general perception remains that voters would by and large stay with the Samajwadi Party, there is a feeling that the Bharatiya Janata Party had made forays into the once Mulayam stronghold.
With the Bahujan Samaj Party not contesting the Mainpuri bypoll, its captive vote bank of Dalits is open for poaching by a resurgent BJP, which wedded them to its upper caste votes in the Lok Sabha polls.
With more than 2.5 lakh Shakya votes and a sizeable number of Thakurs, the BJP has played to the caste matrix by fielding Prem Singh Shakya, a local leader. The Congress too is not contesting the election.
The Rashtriya Swayamsewak Sangh and the Vishwa Hindu Parishad are said to be pitching for the BJP.
The BJP's star campaigner, Yogi Adityanath, who was to address a series of rallies in Mainpuri, could not do so Wednesday after his chopper was denied permission to land. He addressed people from his mobile phone.
The BJP veteran stuck to his favourite theme, accusing the Samajwadi Party of trying to appease "a community" - an obvious reference to Muslims.
Subhash Chandra Chait, a senior citizen living near Bhanwat Chauraha, too is cynical about the Samajwadi Party's prospects.
An ardent fan of Mulayam Singh Yadav who ensured 24x7 power supply to Mainpuri (a luxury these days in Uttar Pradesh), Chait is disenchanted with the "Netaji's" -- as Mulayam is called -- shift to Azamgarh.
Saurabh Gupta, a small time trader near the Santa Basanta chauraha, says it is time Samajwadi Party starts taking Mainpuri's voters seriously.
He has decided to vote for the BJP - "largely due to (the Narendra) Modi government's performance so far".
Mulayam Singh Yadav won the May Lok Saba election from Mainpuri with an impressive margin of 3.64 lakh votes -- 60 percent of the popular vote.
Will the Samajwadi Party win again? With an equally thumping majority? Or will the victory margin slip? Or will the BJP spring a surprise? - IANS