Over 42,000 evacuated in Jammu and Kashmir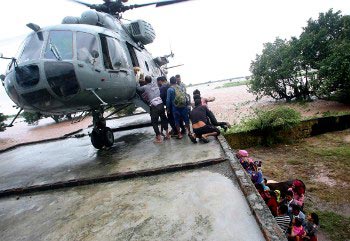 The armed forces and NDRF personnel have rescued over 42,000 people in Jammu and Kashmir as relief efforts continue in the flood-hit parts of the state, a defence ministry release said Tuesday.
It said the army has deployed 215 columns for rescue and relief work, with 130 columns in the Srinagar region and the remaining in the Jammu region.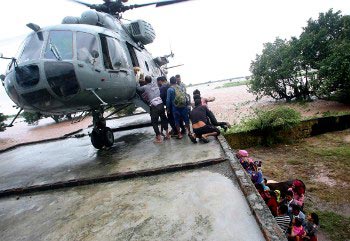 Indian Air Force personnel engaged in rescue, relief and evacuation operations in Jammu and Kashmir (Photo: Indian Photo Agency)
"The armed forces and the NDRF (National Disaster Response Force) have rescued 42,587 people from different areas of Jammu and Kashmir," the release said.
Army personnel have distributed 7,200 blankets and 210 tents to the victims of the worst floods to hit the state in half a century.
The army has also distributed 42,000 litres of water, 600 kilograms of biscuits, seven tonnes of baby food and 1,000 food packets in the flood-affected areas. Additional water bottles are being airlifted from Chandigarh and Delhi.
Eighty medical teams of the Armed Forces Medical Services have also been pressed into action.
Indian Air Force airplanes and helicopters have till now undertaken 354 sorties, dropping 459 tonnes of relief material.
The Bharat Sanchar Nigam Limited with the assistance of the armed forces is trying to restore its mobile services through the satellite network.
The release said IAF communication equipment and a team from a private telecom company are being airlifted from Delhi.
Fifteen engineering task force teams along with boats and other life-saving equipment have reached the flood-hit areas to supplement the rescue operation, the release added. - IANS