Kingfisher, Mallya wilful defaulters, says United Bank of India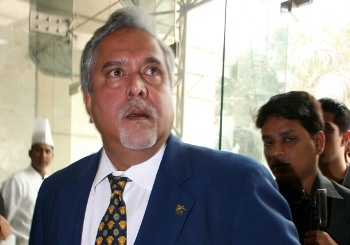 State-run United Bank of India (UBI) Monday declared the defunct Kingfisher Airlines, its promoter Vijay Mallya and its three directors as willful defaulters after they did not turn up for a meeting with its grievances redressal panel, an official said.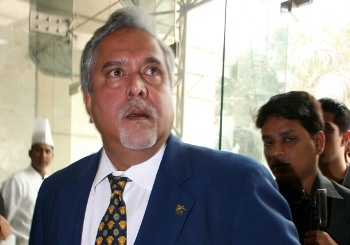 Kingfisher has accumulated losses of Rs.16,023 crore and a negative net worth of Rs.12,919 crore (Photo: Indian Photo Agency)
"We have declared Kingfisher Airlines, its chairman (Mallya) and three directors on its board as willful defaulters as per the RBI circular pertaining to loan advanced to the airline," a senior official of the bank's recovery cell told IANS here.
The three directors are A.K. Ganguly, Subhash R. Gupte and Ravi Nedungadi.
The bank had advanced about Rs.400 crore to the airline in fiscal 2006-07 from its Bangalore branch towards working capital and operational expenses.
"The airline is also liable to pay compounding interest on the principal amount of Rs.400 crore we have advanced to it," the official said on condition of anonymity as he was not authorised to brief media.
A Kingfisher spokesman declined to comment immediately on the development.
"We have learnt about the development (declaring the airline and Mallya as willful defaulters). We are waiting for a communication from the bank to respond appropriately at the earliest," the spokesman told IANS from Mumbai.
As per the Reserve Bank of India circular, a defaulting company or person will not be allowed to borrow money from any bank and will cease to hold any official post in the company.
Ganguly and Nedungadi are also directors on the board of United Breweries (UB) Ltd. in Bangalore.
The bank's recovery cell had summoned Mallya and the three directors after a division bench of the Calcutta High Court Aug 28 dismissed the airline's petition for exemption from appearing before the redressal panel.
The bank also filed a caveat in the Supreme Court Aug 29 against the airline after the high court ruling last week.
The Director General of Civil Aviation (DGCA) had suspended the airline's permit in October 2012 on safety concerns and indefinite strike by its employees.
The grounded airline reported a net loss of Rs.4,301 crore for 2012-13.
With accumulated losses of Rs.16,023 crore and a negative net worth of Rs.12,919 crore, the airline has an exposure of Rs.8,000 crore in the form of debts from a consortium of 14 banks, aircraft leasing firms, airport operators, state-run oil marketing firms and other vendors. - IANS