Irom Sharmila again arrested in Manipur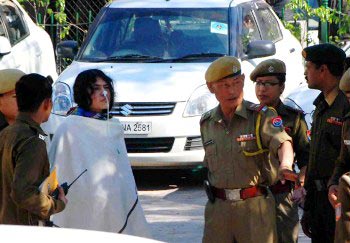 Activist Irom Sharmila Chanu, who is on an indefinite fast in Manipur for nearly 14 years demanding repeal of a law giving sweeping powers to the armed forces to tackle terrorism, was again arrested Friday, two days after she was released following a court order.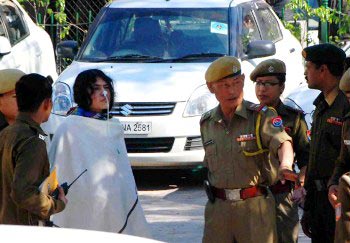 A file photo of Irom Sharmila, who has been on a decade-long hunger strike protesting an anti-terror law (Photo: Indian Photo Agency)
Police arrived at the site of her protest in the morning and arrested her despite resistance from Sharmila, her mother and few other supporters.
Sharmila has been on an indefinite hunger strike since Nov 4, 2000, demanding repeal of the Armed Forces Special Powers Act (AFSPA) after the killing of 10 people allegedly by the paramilitary Assam Rifles at Malom near the Imphal airport Nov 2, 2000.
She was charged under Section 309 of the Indian Penal Code (attempt to commit suicide) that provides for a year's custody at a stretch.
In view of her ill-health, Sharmila was lodged in a special ward of the Jawaharlal Nehru Institute of Medical Sciences in Imphal where the room in which she was confined was declared a sub-jail.
Sharmila, who has been released and arrested again after every 364 days, is force-fed thrice a day.
Despite her request to the Election Commission, she was not allowed to vote in the polls because the law does not allow those in custody to cast their ballot.
The AFSPA provides unlimited powers to the security forces to shoot at sight, arrest people without a warrant or carry out searches without hindrance.
It also insulates the security forces from legal processes for any action undertaken under the act.
The AFSPA, described by critics as a "draconian law", also allows the army and the paramilitary forces operating in areass declared as "disturbed" by the home ministry to take whatever action they deem fit against terrorists.
The AFSPA is in force in whole or in parts of Manipur, Tripura, Assam and Nagaland, as also in Tirap and Changlang districts of Arunachal Pradesh and in Jammu and Kashmir. - IANS