These two horses missed I -Day function after 17 years
Alok Singh
&nbsp | &nbspNew Delhi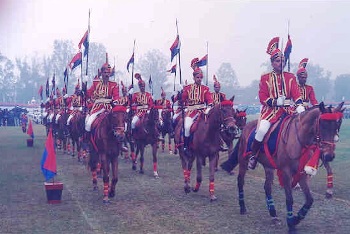 Unlike previous years, Sonam and Sikander could not participate in the Independence Day function at Red Fort this time. The two stallions of Delhi Police had served at the national event for the past 17 years but are now too old to do so.
Their handlers fondly remember their meritorious service during the past years.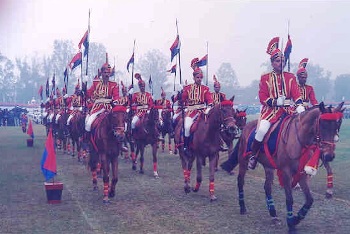 Delhi Police's horse unit, officially called the Mounted Police has 50 horses (Photo: IANS)
"Sonam and Sikander have completed 20 years of age and are on the verge of retirement. A medical board will recommend them for being retired," a handler, who did not wish to be named, told IANS.
Delhi Police's horse unit which is officially called the Mounted Police has 50 horses, which are used to control law and order in the city. They are also used in ceremonial functions. It was set up in the 1930s.
"The horses have been extensively used in police training institutions for training officers, for controlling huge crowds during rallies, processions, festivals," a police officer told IANS.
They are also used during ceremonial functions and in high visibility patrolling in rural and outlying areas of Delhi, the officer added.
Of the total horses, 47 are lodged in the stable yard at the Provisioning and Logistic unit of Delhi Police located in Civil Lines area in north Delhi, while three are kept in Kalkaji Police Station in south Delhi.
"Our horses also get medals in sports events like horse show jumping," said another handler.
"These two horses were bought from a trust when they were three years old. They learnt to adapt and managed themselves in just a few months training. They cost around Rs.50,000," said the handler.
He added that these days the cost of a horse has gone up and could go up to Rs.one lakh.
"This year, 40 horses were deployed at the Red Fort (for the Independence Day function) but Sonam and Sikander were not taken, as they are old," the handler added.
The training period of the horses is around six months.
The timings of their diet is fixed. A mixture of barley, Bengal gram and 'Choker' (an animal feed which is their favourite food) is given to them. They are also given grass in the evening as supplement.
Each horse has one handler, who is of the rank of constable or head constable. The present strength of mounted police comprises 75 constables, 22 head constables and two sub-inspectors.
After completing 20 years age, the horses are retired from service and handed over to non-government organizations. - IANS