Lalu, Nitish are together again -- after 20 years
RJD chief Lalu Prasad and JD-U leader Nitish Kumar Monday came together at an election rally for the first time in two decades, with the former asking Mayawati and Mulayam Singh Yadav to join hands in Uttar Pradesh to take on the BJP.
Former Birhar Chief Minister and JD-U leader Nitish Kumar (Photos: Indian Photo Agency)
Lalu Prasad and Nitish Kumar hugged each other at the rally ahead of a by-election in Hajipur assembly constituency in Bihar's Vaishali district. It is one of 10 seats which will see by-elections.
Both the leaders parted ways in 1994 but came together after the BJP swept the Lok Sabha polls in Bihar.
Lalu Prasad appealed to Samajwadi Party chief Mulayam Singh Yadav and Bahujan Samaj Party (BSP) supremo Mayawati to team up to defeat the BJP in Uttar Pradesh, where the BJP won 71 of the 80 Lok Sabha seats.
"I appeal to both Mayawati and Mulayam Singh Yadav to come together like we have come together to defeat the BJP," Lalu told the rally.
The BSP was wiped out in the Lok Sabha battle while the Samajwadi Party won just five seats.
Lalu Prasad said he and Nitish Kumar wanted to send a strong message across the country to unite non-BJP forces.
"It is a new beginning ... to ensure the formation of a strong alliance of like-minded people against the BJP," he said.
Lalu Prasad accused Prime Minister Narendra Modi of betraying the people by not fulfulling the election promise. "We have joined hands in view of the dangerous designs of the BJP," he said.
Nitish Kumar, who quit as Bihar's chief minister in May after his party was routed in the general election, also targeted Modi, saying that people were still waiting for the promised "achche din" (good days).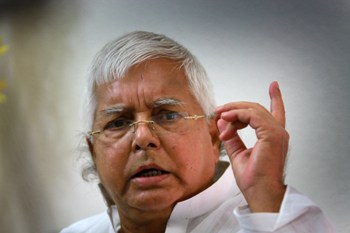 Lalu Prasad has joined hands with Nitish to counter the BJP
The JD-U won only two of the state's 40 Lok Sabha seats -- as against 20 seats in 2009 when it had allied with the Bharatiya Janata Party.
It parted ways with the BJP last year, ending a 17-year alliance.
Hundreds of RJD and JD-U supporters gathered at an open ground near Hajipur, about 30 km from Patna, since morning to witness the coming together of the leaders who have both served as Bihar chief minister.
State RJD president Ram Chandra Purve said both leaders will campaign together again Aug 17 at Narkatiyaganj, Mohania and Chapra assembly constituencies.
It was in the 1991 Lok Sabha polls that Lalu Prasad and Nitish Kumar had last campaigned together.
The ruling JD-U's new allies, RJD and Congress, are contesting the by-polls together in a bid to defeat the BJP.
Their alliance was announced July 30 and their leaders said the move was necessary to strengthen secular forces. - IANS