DMK demands Katju's removal as Press Council chief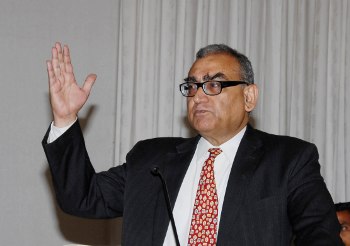 The DMK Wednesday demanded the removal of former Supreme Court judge Markandey Katju as chairman of the Press Council to protect the reputation of the judiciary, legislature and the panel.
DMK legal wing secretary R.S.Bharathi sent a representation to this effect to the vice president, Lok Sabha speaker, the chief justice of India and the union ministers for information and broadcasting and law and justice.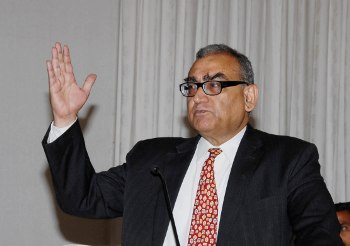 Former Supreme Court judge Markandey Katju (Photo: Indian Photo Agency)
Listing the various views expressed by Justice Katju earlier, Bharathi said: "Such utterances of Mr. Katju not only cause damage to the reputation of the judiciary, legislature but has also damaged the independent body like the Press Council of India."
He said the central government is duty bound to protect the image and credibility of the Press Council so that the people's faith in it and in the judiciary is not shaken.
According to the DMK, the various omissions and commissions of Katju amount to misconduct and misbehaviour.
"Katju has belittled the post due to his continuous outbursts and temperamental behaviour, which is not expected from a person holding the public office," the party said in the representation.
According to the letter, Katju, being a whole time officer and drawing salary from the central government, occupying a government bungalow and availing perks at the cost of the public exchequer, is expected to maintain the utmost dignity, decency and decorum.
"Also being a statutory authority, he cannot act as a mouthpiece of any political party nor can he air his controversial views which are political in nature while he is holding a public office," the letter notes.
According to the DMK, being the chairman of the Press Council and exercising quasi judicial functions Katju is expected to be polite, well behaved, impartial, independent and considerate.
"On the contrary, he is interested in publicity mania and often throws himself in the midst of controversies and criticisms," the DMK alleged.
The DMK's demand to remove Katju comes after the latter alleged that the party - without naming it - had pressurised the then United Progressive Alliance (UPA) government to appoint late Justice S.Ashok Kumar as an additional judge in the Madras High Court despite corruption charges against him.
DMK president M.Karunanidhi had demanded that Katju disclose all the facts relating to his allegation.
"All along Mr. Katju was targeting the parliamentarians and legislators. Now, his ammunition are being fired against judiciary. We suspect that only to silence the judiciary and to dilute the powers of contempt of court for obvious reasons, Mr. Katju is making such statements," the DMK claimed. - IANS