With joy and prayers, Muslims celebrate Eid in India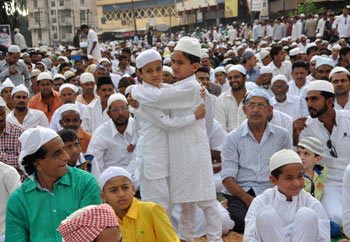 Millions of Muslims Tuesday celebrated Eid-ul-Fitr across India with joy and devotion, with Prime Minister Narendra Modi praying for "unity and brotherhood in our nation".
In innumerable urban and rural centres, Muslims poured into mosques and large open grounds and offered Eid prayers to mark the end of the Islamic holy month of Ramadan.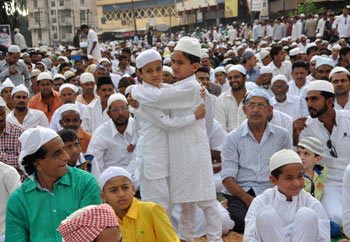 Eid was celebrated across with joy and fervor (File Photo: Indian Photo Agency)
Eid prayers were also offered at the 17th century Taj Mahal.
Barring the Kashmir Valley, where youths clashed with security forces for a few hours, the day was celebrated peacefully and with visible joy all across the country.
With over 170 million Muslims, India is home to the third largest Islamic population in the world after Indonesia and Pakistan.
Modi, who became prime minister only two months ago, greeted the nation on the occasion. "May this auspicious day strengthen the bonds of peace, unity and brotherhood across our nation," he said.
Islamic scholars underlined the importance of Eid.
"It is a festival of peace and love. The sacrosanct occasion teaches people to subside the feeling of hatred and discrimination," Ashraf Usmani of Darul Uloom, India's most influential Islamic seminary, told IANS.
Maulana Mufti Mukarram, the Naib Imam of Fatehpuri mosque in Old Delhi, said: "It is an occasion when everyone irrespective of religious or social barriers must endorse the message of peace and love."
Attired in new clothes and wearing skull caps, men and children thronged Eidgahs and mosques for namaz.
In many mosques, special prayers were held for peace in Gaza, where Israel's targeting of the Hamas has left hundreds, mainly civilians, dead.
The biggest Eid gatherings were reported from Assam, West Bengal, Bihar, Uttar Pradesh, Delhi, Jammu and Kashmir, Gujarat, Maharashtra, Telangana, Kerala, Karnataka and Tamil Nadu.
After the morning prayers, sweets were exchanged with friends and families. Muslims embraced one another with greetings of "Eid Mubarak".
Guests were treated to 'sheer khorma' (special sweet made of vermicelli, milk and dry fruits) and other dishes.
The festivities extended to the India-Pakistan border in Punjab where Pakistan Rangers offered sweets to the Border Security Force. The Indians and Pakistanis then hugged one another at the border gates.
Muslims across Telangana and Andhra Pradesh celebrated Eid with religious fervour and gaiety -- and with prayers for the dead in Gaza.
Many families celebrated with simplicity in solidarity with Palestinians in Gaza.
Every Muslim family paid Fitra or charity (Rs.80 to Rs.100) on behalf of each member as per the Islamic rules so that the poor can also celebrate the festival.
The Kashmir Valley celebrated Eid with the usual religious fervour after the morning festivities were marred by clashes between youths and security forces.
Once peace returned to the valley in the afternoon, people exchanged Eid greetings with families and friends in Srinagar and all major towns in the valley. Children burst firecrackers.
The serenity was visible in Uttar Pradesh too. However, security forces kept a vigil in both Saharanpur and Rampur which have been hit by communal violence.
In Kerala, where Muslims account for a quarter of the 33 million people, the biggest gatherings took place in Malappuram, Kozhikode and Kannur. In most cities, the prayers took place in grounds and stadiums.
In Delhi too, tens of thousands of Muslims thronged mosques. "People prayed for peace and progress in the country," Maulana Mufti Mukarram, the Naib Imam of Fatehpuri, told IANS.
The scenes were no different in Kolkata. West Bengal Chief Minister Mamata Banerjee posted Eid greetings on her Facebook page.
"It is very important to maintain the sanctity of the festival throughout life. All sorts of bad thought, bad behaviour need to be cleansed from the system," Akhtarul Wasey, senior professor of Islamic Studies at the Jamia Millia Islamia in Delhi, told IANS.
(IANS - With contributions from Rupesh Dutta, Sheikh Qayoom, Anil Sharma, Mohit Dubey, Imran Khan, Sahana Ghosh, Jatindra Dash, Mohd. Shafeeq, Fakir Balaji, Jaideep Sarin, Mayabhushan Nagvenkar, Sanu George, V. Jagannathan, Rahul Vaishnavi, Brij Khandelwal.)